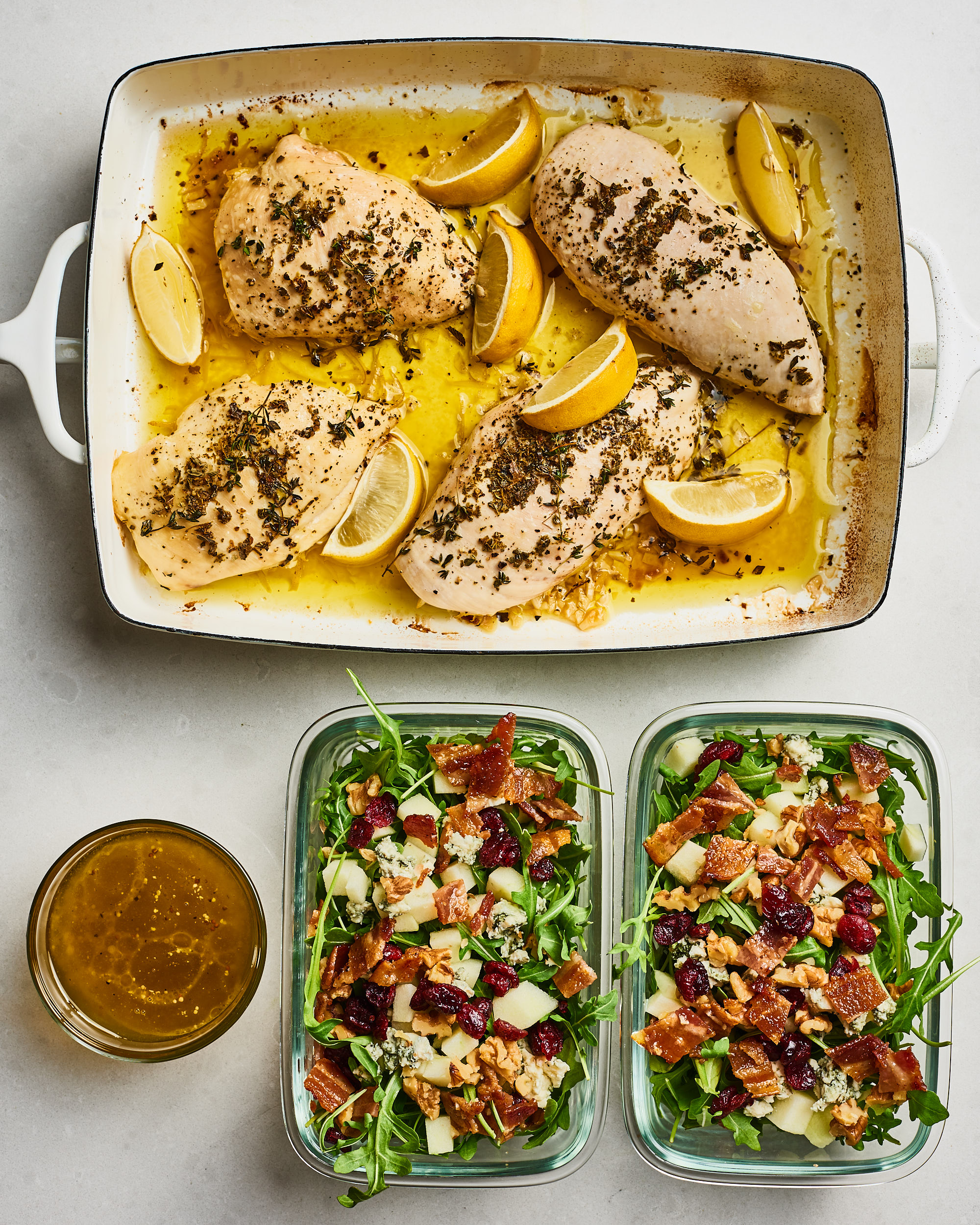 Upon first thought, you might not think of Ina Garten as a model for meal prep. After all, if I had to describe her hallmark cooking style, I would say "effortless with endless amounts of time for leisurely cooking." But it turns out that if you're looking for brilliantly basic meals that are oh-so-rewarding, her recipes are just the ones to make during a meal prep session.
This Power Hour plan takes about two hours from start to finish, and will give you a week of breakfasts, lunches, and dinners for two. The recipes follow basic meal prep principals, with Ina-level results.

Meal prep is still a new habit for me, and when I find myself getting stuck, I rely on prepping essentials that are incredibly satisfying on their own but still work well together, like a hearty salad and juicy roast chicken. That's why Ina's recipes are ideal for beginner meal prep.
This meal plan is designed to feed two for breakfast, lunch, and most dinners for a work week. It includes breakfasts and lunches that I can eat at my desk and my husband can take with him on his way out the door. We do have two small children who eat dinner with us, so our dinner meal prep needs to be easily supplemented with pasta or vegetables so we can all eat mostly the same thing at the same time.
Meal Prep Goals
Breakfast: Easy breakfasts that can be quickly reheated or eaten at room temperature (5 days).
Lunch: Filling desk lunches that can be heated in a microwave if needed (5 days).
Dinner: Dinner tentpoles that can be supplemented with quick-cooking sides and appeal to a 7- and 4-year-old too (5 days).
Nutritional Goals: While we don't have any dietary restrictions, I'm sneakily working on getting my husband to eat more fiber and dark leafy greens.

Meal Prep Plan Snapshot
Feeds: Two adults plus some dinner mains for two elementary age kids
Prep Time: About 2 hours
Meals Covered: About 90% (no snacks or weekend meals)
Weeknight Cooking Required? Quick-cooking sides to supplement main dishes like pasta or steamed frozen vegetables for my kids.
My Meals This Week
Breakfast
Mini Italian Frittatas
Bulgur with maple syrup and butter
Lunches
Italian Wedding Soup
Lemon Chicken Breasts with Cape Cod Chopped Salad
Dinners
Italian Wedding Meatballs with pasta and marinara sauce
Lemon Chicken Breasts and Balsamic-Roasted Brussels Sprouts
Power bowls: Lemon chicken breasts, roasted vegetables (Brussels sprouts and sweet potatoes), salad components, and cooked bulgur.

My Shopping List
This week's shopping list is heavy on produce and pantry items, with just a bit of meat and dairy to round it out. It assumes staples like olive oil, salt, and pepper are already on hand.
Produce: Apples, lemons, sweet potatoes, 3 large leeks, bunch of parsley, 2 large containers spinach, 1 bunch of carrots, 1 bunch of celery, 2 pounds Brussels sprouts, 1 onion
Meat & Seafood: Prosciutto, 2 pounds ground chicken, 1 pound ground sausage, 2 pounds chicken thighs, 2 pounds chicken breast, 1 1/2 pounds bacon
Refrigerated: 1 dozen eggs, 1 pint half-and-half, 1 wedge Parmesan cheese and 1 blue cheese, Dijon mustard
Pantry: Bulgur, small pasta, olive oil, apple cider vinegar, pasta sauce, chicken broth, pecans, dried cranberries
Power Hour: How I Get the Prep Done
Getting the oven cranking with a few low-effort items like bacon and sweet potatoes will give me time to prep other oven-bound dishes. The meatballs for the Italian Wedding Meatball dish will take the longest to prep and cook, so I double the recipe to make the effort and clea up worth the 30 minutes they add to my total prep time.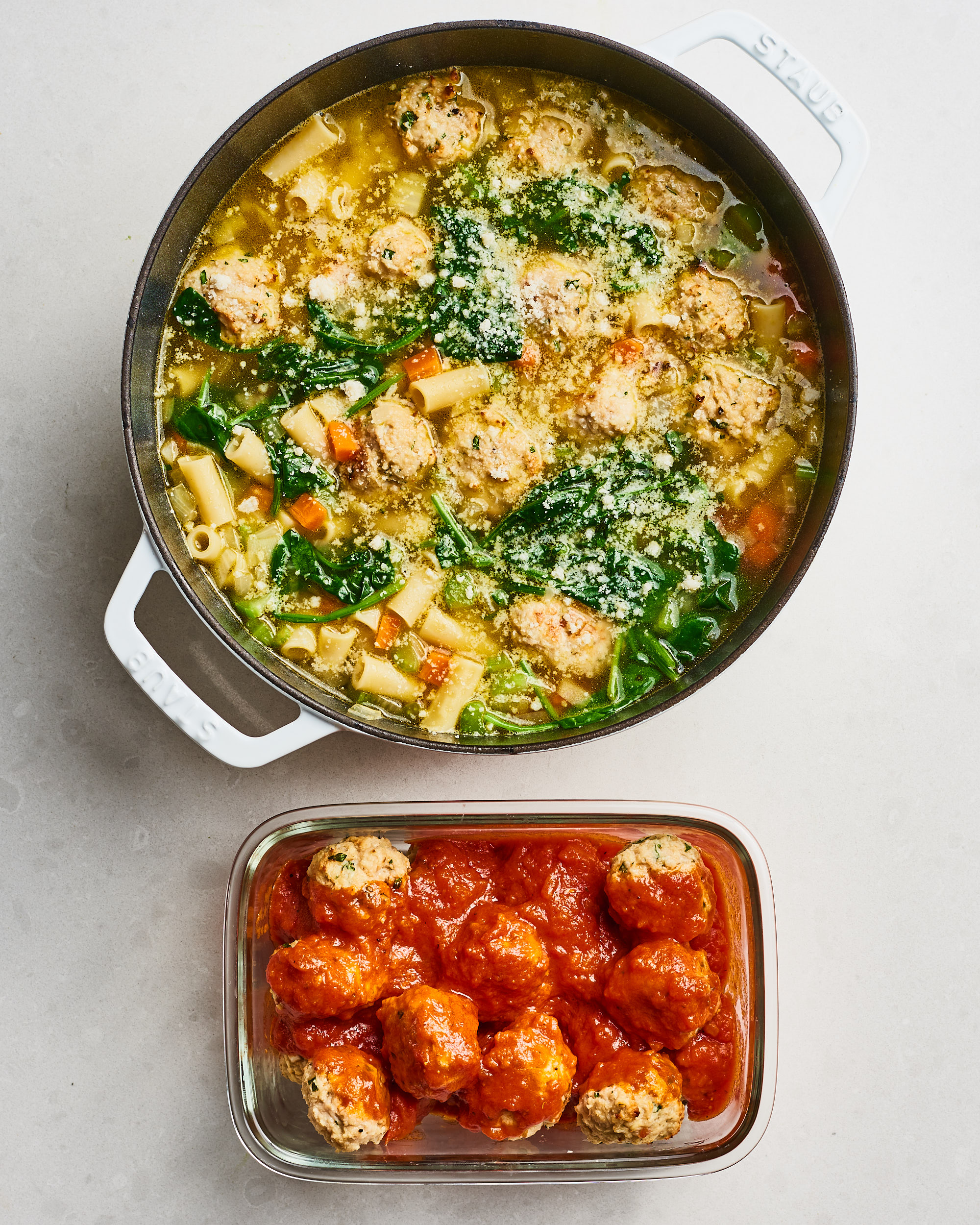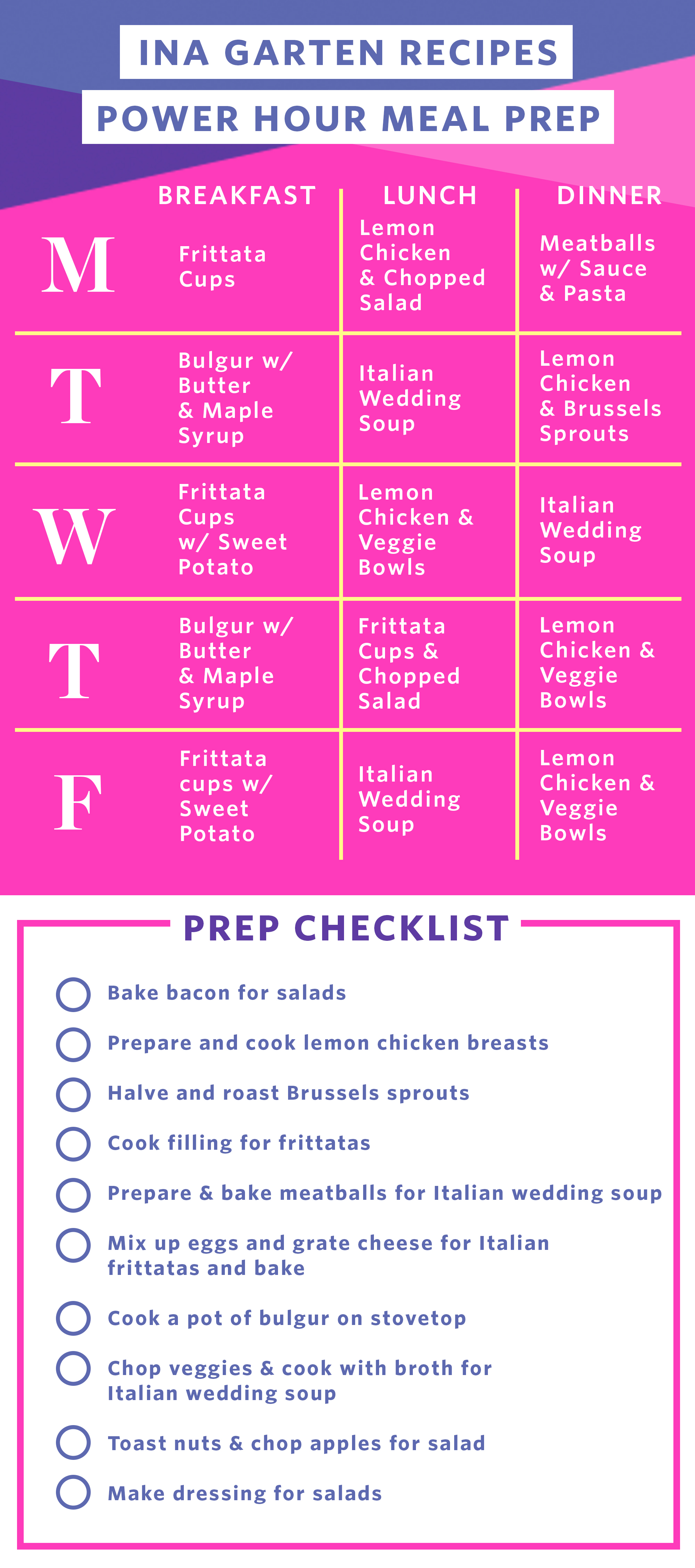 A Week of Easy, Ina Garten-Inspired Meals
Breakfast: The Mini Italian Frittatas may go down as my all-time favorite grab-and-go breakfast — their fat and proteins makes them supple whether eaten hot or cold and keep us full. The simple pot of bulgur makes a decent replacement for my morning oatmeal too.
Lunch: While I loved having soup and salad options for the week, I found myself making more bowls of grains, the cooked meatballs, and roasted vegetables more than anything else. This speaks to me about the power of basic meal prep being adaptable if you find you aren't quite craving what you originally planned at the top of week.
Dinners: Meatballs for president, you guys. My kids devoured both the meatballs and pasta and the Italian Wedding Soup for dinners and have repeatedly asked for meatballs since. Ina's lemon chicken was easily adapted to chicken salad and a very basic dinner wrap on a few nights when we needed to eat dinner on the go.
Power Hour Meal Prep is the series where we help you put it all together. We show you how to eat well during the week with an hour or two of Power Hour prep over the weekend. Every plan is different; mix and match to find your own personal sweet spot.
Source: Read Full Article