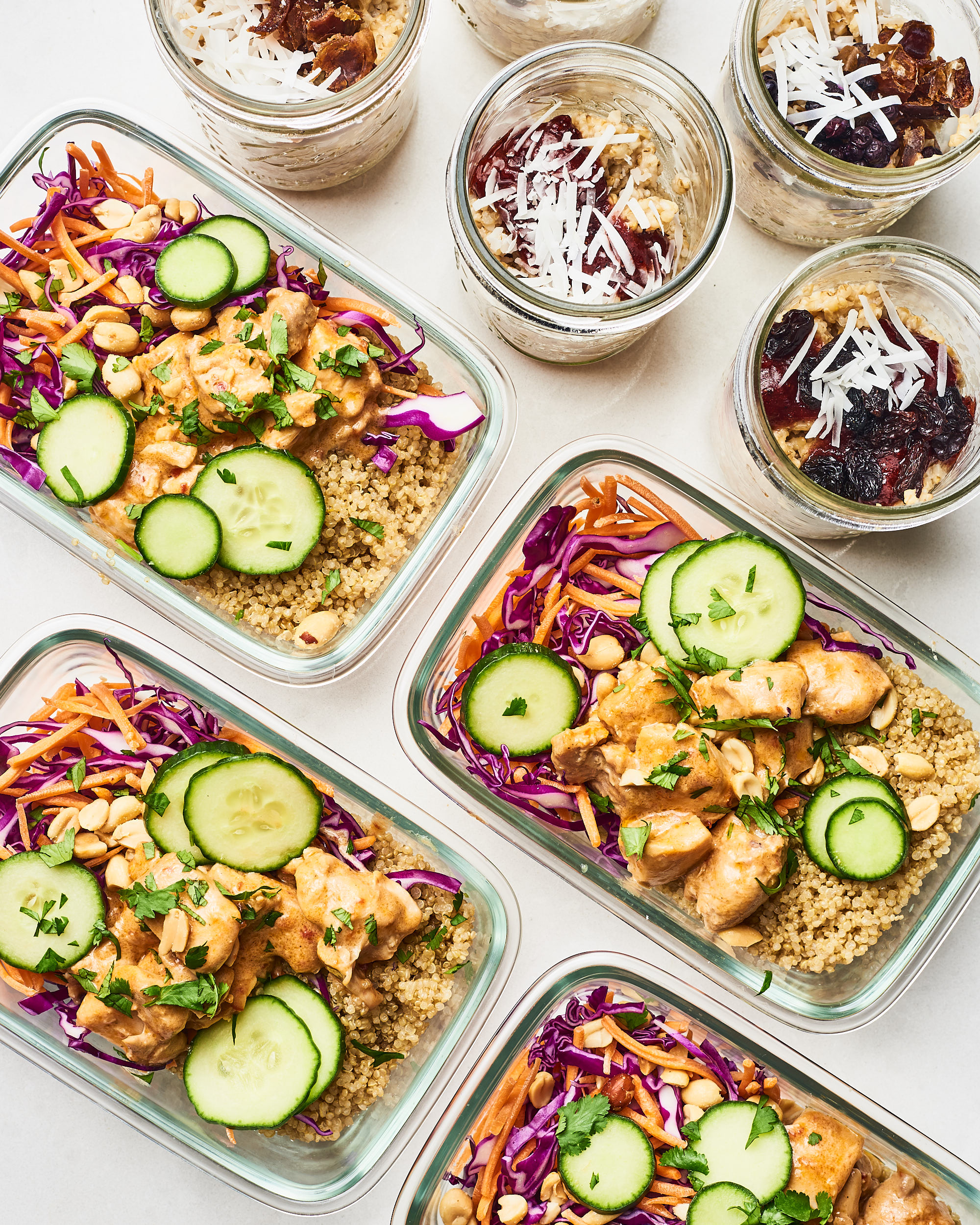 Here's the thing: Even if you're on a budget, meal prep does not have to be boring or basic. Getting creative with wallet-friendly ingredients — like staple grains and fresh produce — can give you a week of easy meals for less than $75.
My family recently tightened our grocery budget and long gone are the weeks of prepping whatever meals strike my fancy. Instead, by streamlining breakfast, lunch, and dinner options, I can now focus on meal prep that won't break the bank. Here's how I prep a week of meals — breakfasts and lunches for two, dinners for four — for my family.


Grocery budgeting doesn't have to be complex — starting with what is already in your pantry and kitchen is the best first step. This Meal Prep Power Hour was really built off of things in my pantry and freezer, but the staples are ingredients you probably have too — like rice and oats. At the grocery store, I'm choosing inexpensive proteins like chicken thighs and ground beef, and cheap vegetables like cabbage, canned tomatoes, and cucumbers.
While this prep plan focuses on variety at lunch and dinner (with breakfast being the same recipe for the whole week), you could easily pivot to use the same technique for lunch or dinner basics. By repeating one recipe for a single meal, you can cut down on meal costs for the week. This meal plan covers breakfasts and lunches for two people, and (most) dinners for four people, but similarly, you could adjust to feed more or less depending on your family's needs.
Meal Prep Goals
Breakfast: A no-brainer breakfast that I can reheat and eat all week long.
Lunch: Lunch is the one meal I get to eat by myself, so lots of vegetables and flavor is the ultimate goal.
Dinner: Big-batch meals that we can reheat and eat for 4 meals during the week.
Nutritional Goals: My family eats a varied whole foods-focused diet with no restrictions or allergies.
Meal Prep Plan Snapshot
Feeds: 1 to 2 adults for breakfast and lunch. Plus dinners that can be stretched to feed more at dinner.
Prep Time: 2 hours
Meals Covered: 80% no heavy weeknight cooking and no weekend meals.
Weeknight Cooking Required: A few quesadillas might need to be thrown together for kid dinners, but otherwise minimal weeknight cooking.
My Meals This Week
Breakfasts
A big batch of Steel-Cut Oatmeal in Jars + frozen berries
Lunches
Peanut Chicken Power Bowls
Red Lentil Soup
Dinners
Ground Beef Taco Casserole (as tacos and taco salads)
5-Ingredient Whole30 Sheet Pan Chicken with sweet potatoes and red onions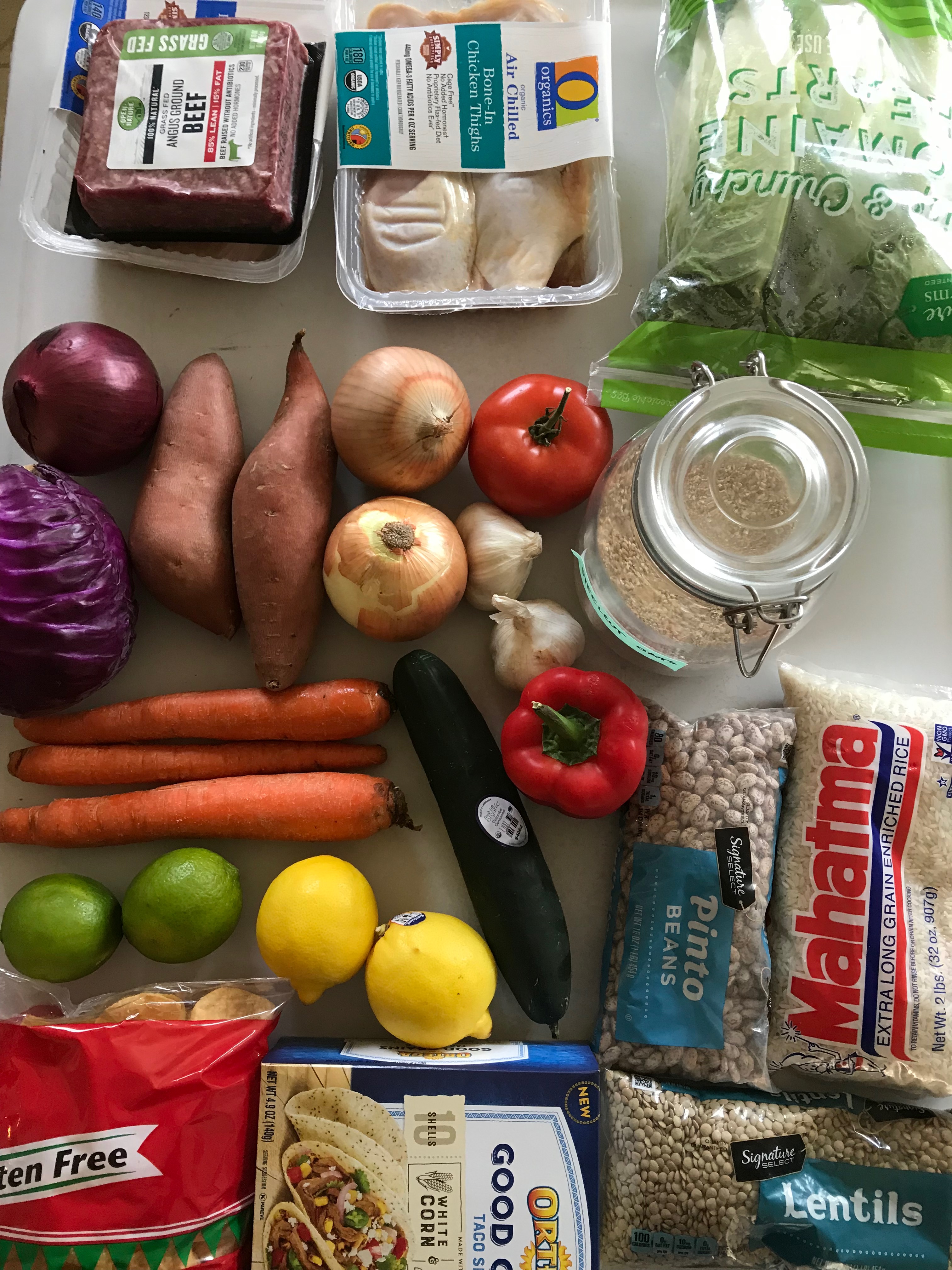 My Shopping List
Here's where you really need to pay attention to keep that budget in check: Buy single-item produce whenever possible (i.e., a head of romaine, not the 3-pack of romaine hearts) and shop the bulk bins for just what you need of dry goods like rice and oats.
Produce: 3 limes, 1 small head purple cabbage, 1 head romaine lettuce, 2 medium carrots, 1 medium English cucumber, 1 bunch fresh cilantro, 2 stalks celery, 2 small yellow onions, 1 medium red onion, 1 medium red bell pepper, 1 head garlic, 1 medium tomato, 2 large sweet potatoes
Meat & Seafood: 1 1/2 pounds boneless, skinless chicken breasts, 2 pounds ground beef, 2 pounds bone-in, skin-on chicken thighs
Refrigerated: 1 1/2 cups shredded mild cheddar or Monterey Jack cheese, Greek yogurt or sour cream
Pantry: Steel-cut oats, creamy peanut butter, toasted sesame oil, 1 cup quinoa, 1/4 cup unsalted roasted peanuts, 1 cup dried red lentils, 1 (15-ounce) can pinto beans (or dried beans), 2 tablespoons tomato paste, 15 ounces tomato salsa, 1 can chipotles in adobo, tortilla chips and/or taco shells.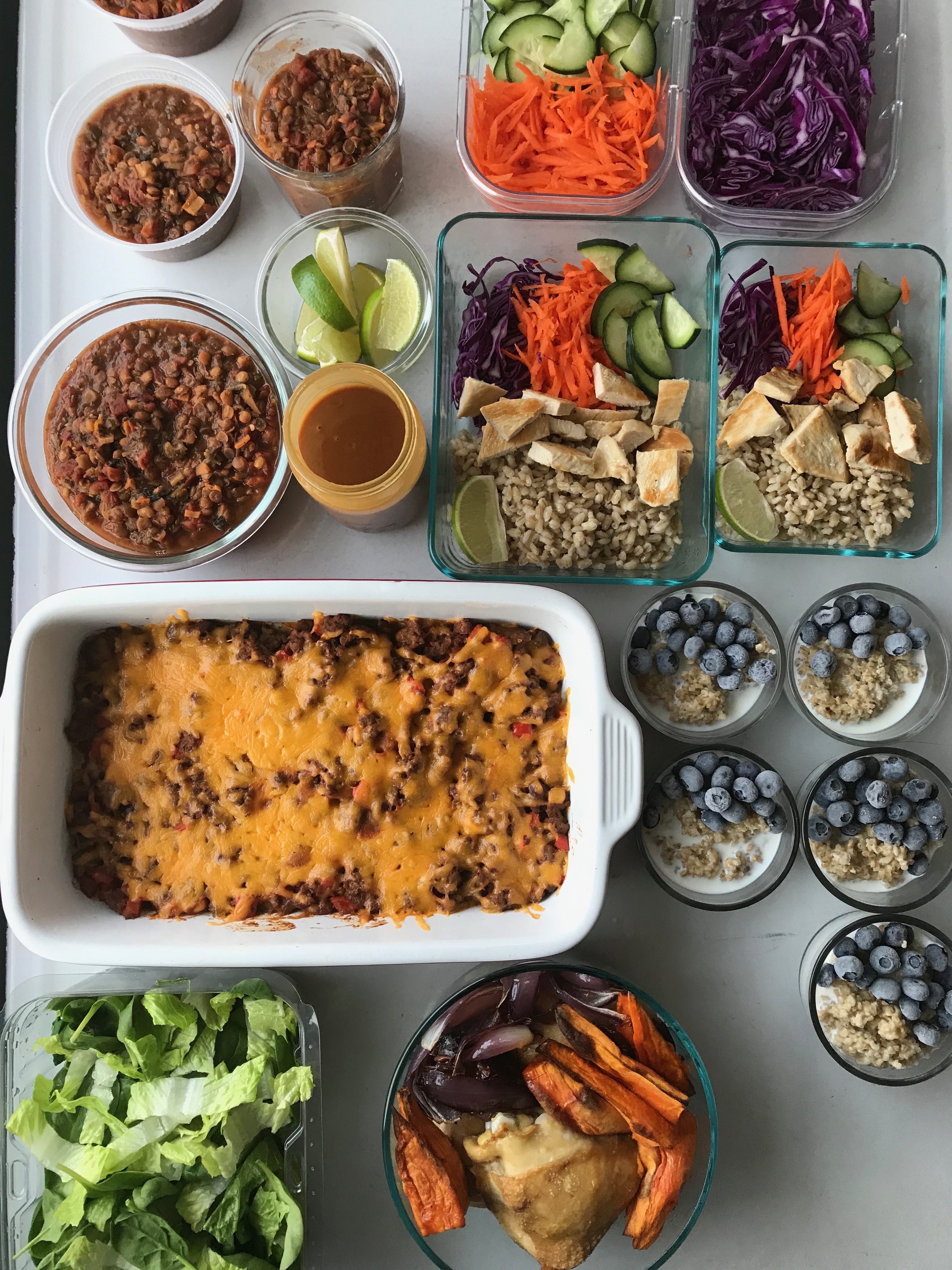 Power Hour: How I Get Prep Done
Getting the most out of this Power Hour's budget also means putting a little more time into cooking, instead of buying prepped ingredients or shortcuts.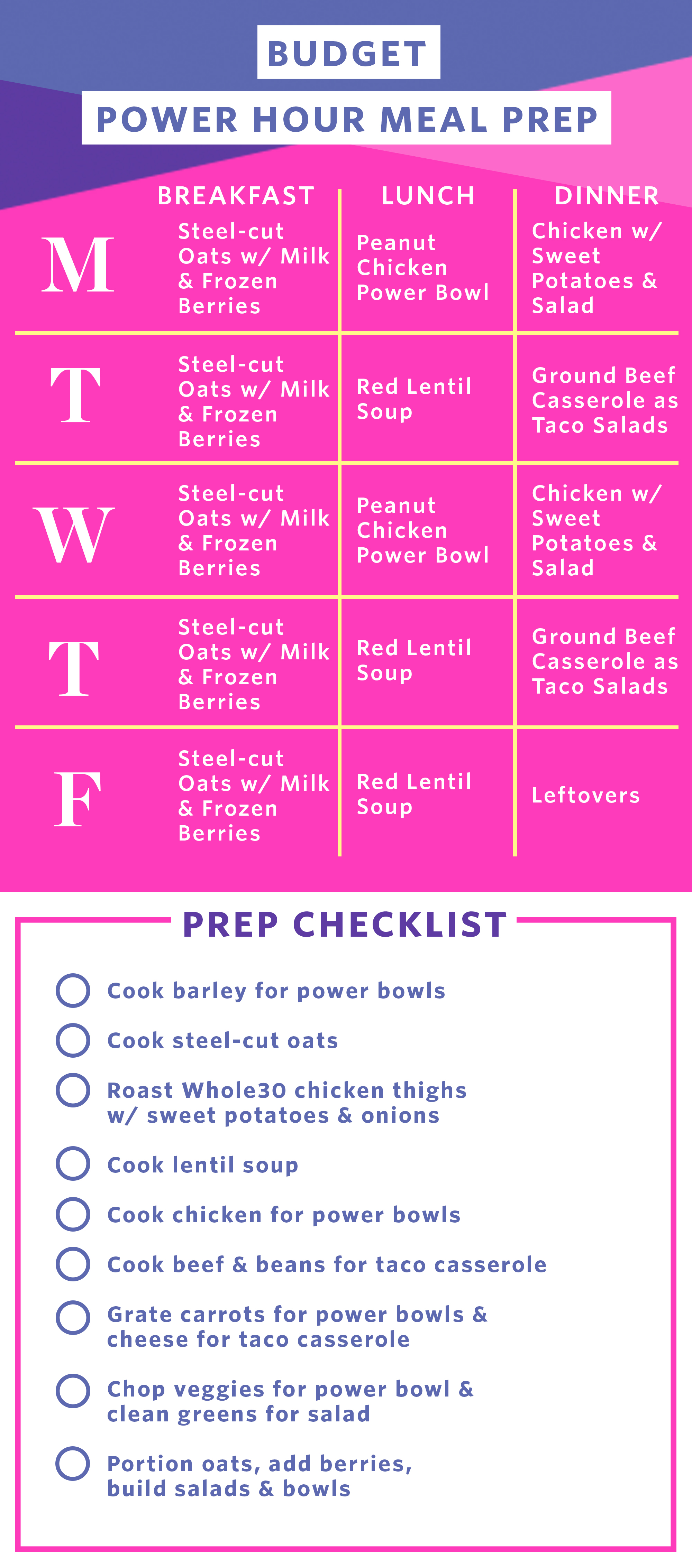 A Budget Power Hour Under $75
Breakfast
I chose to make just a single recipe for breakfast both as a way to keep my budget in check and streamline prep. While varying the toppings kept things interesting, next time I'd budget for some savory toppings and a few eggs so I can alternate between a fruity breakfast and an eggy one while still keeping oats as the base.
Lunch
This was my most favorite lunch week to date, maybe ever! I mentioned earlier that because I have small children and work from home, lunch is the one meal I get to eat alone. Having colorful Power Bowls and a bright soup to eat all week gave me a little midday boost and felt like the most glorious (but also really basic) self-care.
Dinner
We alternated between eating salads topped with Whole30 chicken and variations on the Taco Casserole (the adults ate as salads, while the kids ate it in taco shells). We actually ended up with enough leftover components to have dinner (albeit everyone eating something slightly different) on Friday, too, an unplanned boon.
All in all, this meal plan didn't feel basic even though it was budget (read: it didn't feel like we were eating beans and rice and ramen all week to save a few dollars). It also reminded me of the financial power of shopping my pantry first, and that meal prep is a practical way to reduce stress both by keeping our food budget in check and feeding us well during the week.
Power Hour Meal Prep is the series where we help you put it all together. We show you how to eat well during the week with an hour or two of Power Hour prep over the weekend. Every plan is different; mix and match to find your own personal sweet spot.
Source: Read Full Article