There is nothing as exciting as traveling and getting the chance to see new places. We love that it allows you the chance to try out different dishes to what you are accustomed to. Of course, some new dishes may taste weird, but you will really enjoy most of them half the time.
One of the best destinations in the world that you should definitely add to your bucket list is Egypt. The country has some really great places to see because of its rich history. You will also get the chance to chill at the beach, and scuba diving, if you prefer. Egyptian food is also a must-try.
Because of its ancient history, you will notice that each and every civilization that has ever existed in Egypt has actually left a mark on the dishes. Below, we give you the most scrumptious traditional Egyptian dishes that you must definitely give a try. These range from breakfasts to dinners.
Traditional Egyptian Food to Try
We all know that food brings people together, and Egyptian food, because it's really delicious, has managed to unite generations. Some of the dishes in this post are decades old, while some of them have had a modern touch. Next time you are in Egypt, make sure you try out one or two of these dishes.
1. Falafel
This traditional food is also known as Ta'meya and tastes heavenly. This is a breakfast dish that is served with some eggs, cheese, full, as well as pita bread. When making falafel, you have to use chickpeas as the main ingredient. However, when Egyptians cook ta'meya, they use fava beans.
Before cooking the beans, they are soaked overnight, after which they are crushed in a food processor. Next, the beans are combined with parsley, cilantro, garlic, white onion, as well as leeks. All of these ingredients should be fresh. At this point, different dry spices are added to the mixture, together with chickpea flour.
After everything has been mixed together nicely, palm-size balls are rolled from the mixture, and then fried. The fresh and unique flavors in this dish are amazing.
2. Koshari
This popular traditional dish is actually the national dish of Egypt. When you visit Egypt, you will be able to find this dish on the streets, where it is served from carts. It is also a popular option in most restaurants, and it's very cheap. Most people love it because it is so filling.
The dish is made up of different layers of macaroni, rice, chickpeas, and lentils. These are all topped off with some sauces, usually red sauce or garlic sauce, as well as caramelized onions.
3. Shawarma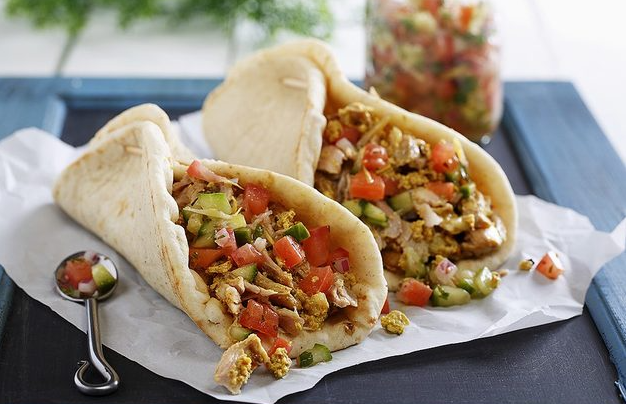 This dish is very popular throughout Egypt. The street food is originally from Greece, and the Egyptian version has its own twist. It is cooked with either beef or chicken, which has to be marinated with spices, after which it is cooked on the spit all day.
The meat is then shaved off and added to a wrapper, which may be topped with garlic sauce or tahini. It is mostly preferred because it is healthy and cheap.
4. Fattah
This dish was served in ancient Egypt at big get-togethers, such as weddings, or when people celebrated the birth of a new baby. Today, on the first day of Eid-al-Adha, which is an Islamic feast, this is served as the main dish.
The dish combines crispy bread with some rice, tomato sauce, or vinegar, as well as some meat. Normally, the meat used in this dish is beef. However, on very special occasions, lamb is used.
Typically, the dish is served with tomaya and rotisserie chicken.
5. Feseekh
With this dish, it could be a hit or a miss, depending on what you like. Feseekh is a mullet fish. In order to prepare it, the fish is dried in the sun. After it gets dry, it is then soaked in salty water for periods of up to a month.
Egyptians normally eat this dish when celebrating Sham El Nessim, which is a spring celebration. It can be eaten with pita bread, together with some fresh salad of choice. It is definitely worth a try, although some people don't really like it.