The wire shelf risers are perfect for adding an extra shelf right where you need it. For instance, instead of stacking two different kinds of dishes on top of each other and then either trying to shimmy one kind out of the pile or taking a stack of dishes out to get to the one you want, the wire shelf separates the stack, giving you easy access to whatever you need.
You can also separate related-but-different items, still keeping them together but not in a jumbled mess. I stack my glass storage containers, like with like, and put a wire shelf over the pile. The lids go on top of the shelf so they aren't sliding everywhere and I don't have to stack and re-stack.
I also use my wire shelves to use as much cabinet dead space as I can, especially in my lower cabinets. For instance, I place a wire shelf in the bottom cabinet where we keep our school lunch boxes and bags. Boxes get stacked beneath the shelf and the bags get stored vertically on top of it. This kind of usability is especially welcome when it's the kids putting stuff away and taking it out because it sets them up for success and keeps frustration (theirs and mine) to a minimum as they learn to care for their own things.
Wire shelves are also perfect in the pantry. Rather than piling things on top of each other, the shelf gives you a handy and customizable way to separate items while also maximizing vertical storage. I use them to store rolls of things like parchment paper and aluminum foil, for example.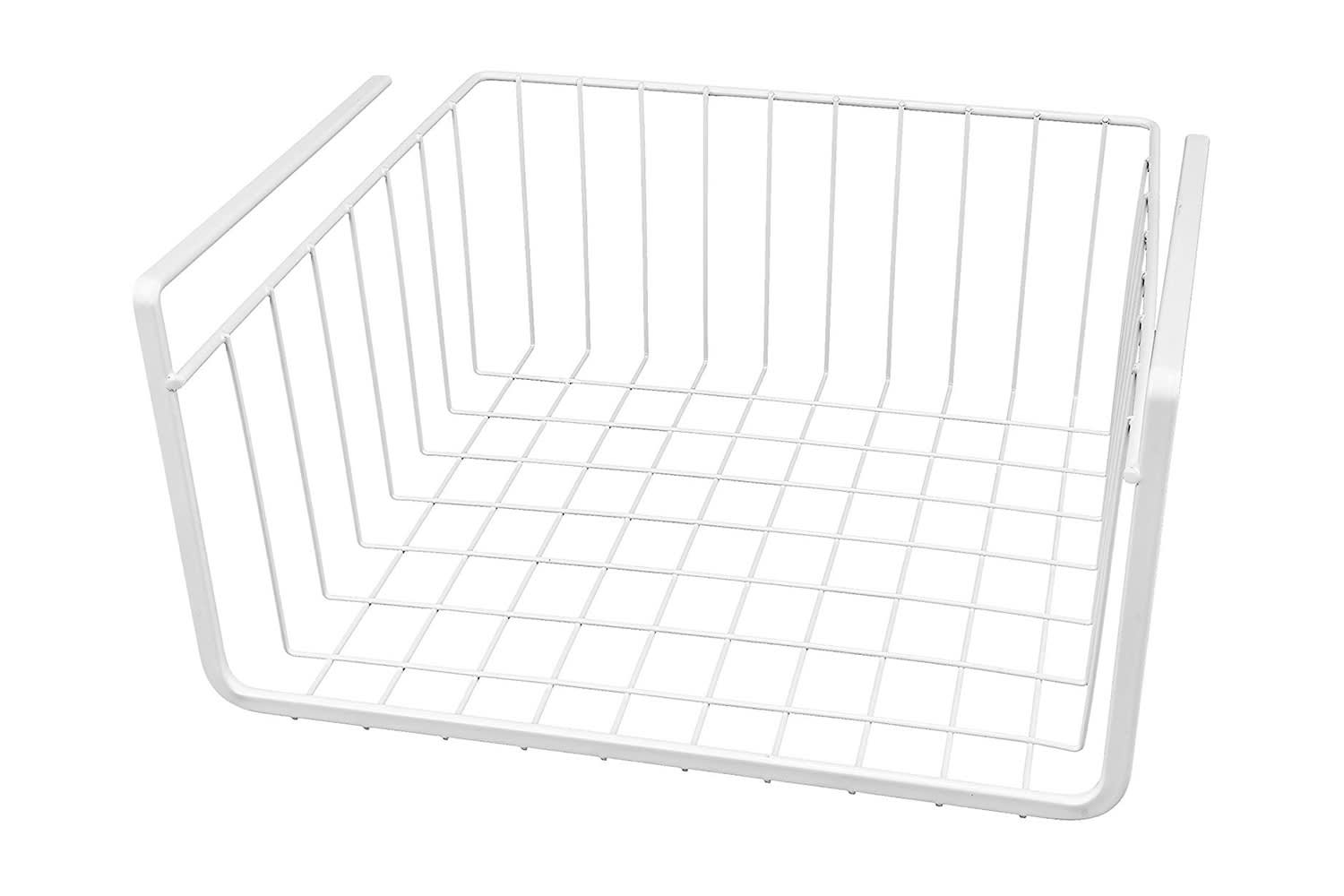 Wire baskets work in a similar way, but hang down from shelves rather than sit on top. They are great for longer items stored horizontally or for items in bags. For instance, I use one in my cabinets to store water bottles horizontally with the mouthpieces facing out. We can see what we have without sacrificing vertical space or dealing with bottles rolling all over the place.
I also have a couple wire baskets hanging down from shelves in the pantry. I store boxes of our various-sized zipper bags in one and bags of dried beans and rice in another (when I don't decant into my favorite pantry containers).
By using wire shelves and baskets, you can take advantage of vertical space and dead space in your cabinets thereby doubling your storage capacity and maximizing usability in a versatile, non-permanent, and affordable way. Once you use them, you'd never set up your cabinets or pantry without them.
This post originally ran on Apartment Therapy. See it there: These Classic $10 Organizers Will Double Your Cabinet Space
Source: Read Full Article