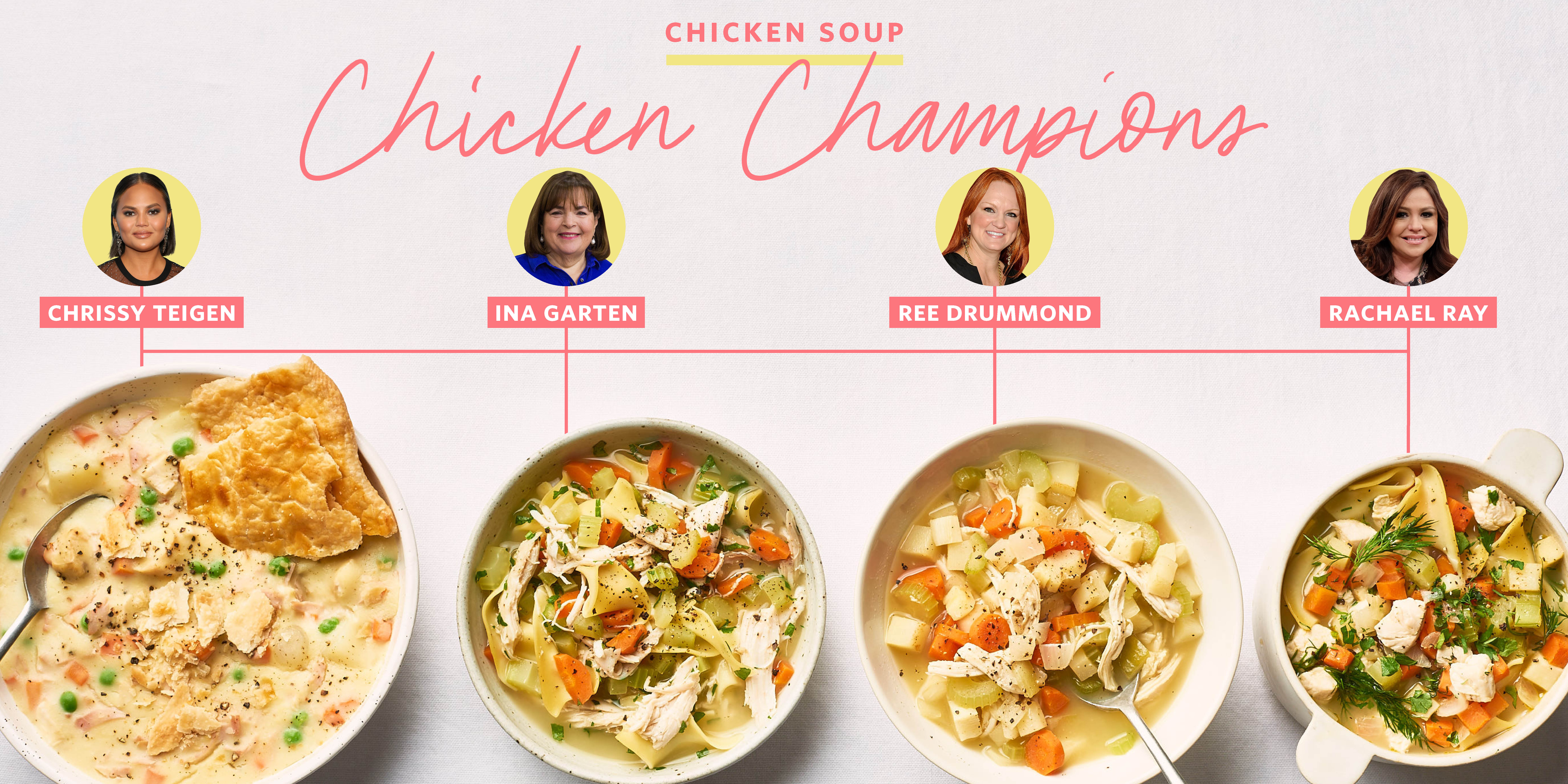 Chicken Champions: All month long, Kitchn is battling off the four classic chicken recipes everyone needs this time of year: pot pie, soup, roast chicken, and showstopper chicken. (It's our version of March Madness: Chicken Edition!) Here's our second of four battles: roast chicken.
I've never met anyone who loves soup as deeply as my husband. He's a guy who could eat a different bowl every day and never tire of it. While I can never even come close to his enthusiasm for black bean and broccoli cheddar, I've long had a soft spot for chicken noodle.
It's hard to beat just how restorative and comforting homemade chicken noodle soup can be. I almost always make a big pot early on in the winter and freeze batches of it to reach for when colds strike and snow falls. So I was definitely up to the challenge to test some of the internet's most popular versions from a handful of celebrity chefs. How did they compare? Here's how they ranked, from my least favorite to most.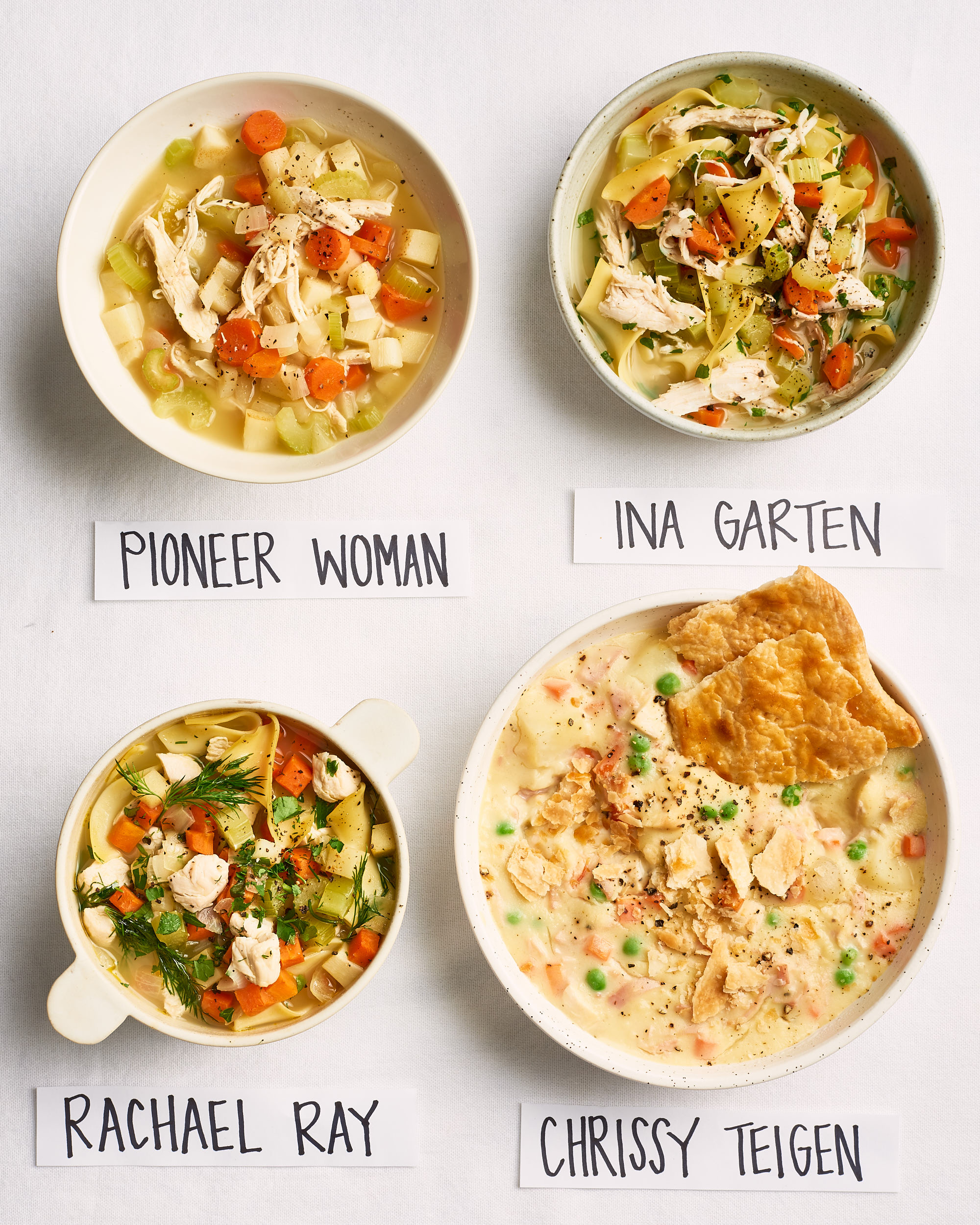 The Points-for-Originality Chicken Soup: Chrissy Teigen's Chicken Pot Pie Soup
While I loved Chrissy's clever idea of turning chicken pot pie into a soup, it just didn't deliver. The homemade pie crust crackers were fussy and took a lot of extra time, while the actual soup was way too thick and rich for my taste.
Rating: 3/10
Read more: I Tried Chrissy Teigen's Chicken Pot Pie Soup
The Dump Dinner Chicken Soup: Ree Drummond's Chunky Chicken Soup
If you can dump a few things into a pot, you can make Ree's chicken soup. I appreciated how easy her recipe was despite the fact that she forgot to list one crucial step in the instructions: to remove the whole chicken from the pot, shred the meat, and add it back to the soup. Also, because you're simmering the chicken and vegetables together for an hour or more, the vegetables become very overcooked. I really missed the texture vegetables usually bring to the bowl.
Rating: 6/10
Read more: I Tried Pioneer Woman's Chunky Chicken Soup
The Truly Tasty (but Ultimately Wasteful) Chicken Soup: Ina Garten's Chicken Noodle Soup
Ina's chicken noodle soup was super classic, which I loved. It was full of tender chicken pieces, chopped carrot and celery, and thick egg noodles. If it were based on taste alone, her recipe would be tied with my top-ranked favorite below, but the homemade chicken stock recipe that accompanies the soup was an issue. The stock recipe calls for simmering three whole chickens for four hours. That causes the meat to be too tough to be eaten, so you have to throw it away. Not only is this expensive, but it's also wasteful, which I just couldn't stomach.
Rating: 7/10
Read more: I Tried Ina Garten's Chicken Noodle Soup
The Very Best Chicken Soup: Rachael Ray's Quick Chick and Noodle Soup
My favorite chicken soup was a surprise because it comes together the fastest. I've always felt a great soup requires plenty of time to simmer slowly on the stove, but Rachael's shortcut recipe tastes just as good and takes no more than 30 minutes to make. It does require you to already have good-quality chicken stock on hand, though, which is why it doesn't get a perfect rating; but if you do have it on hand, you'll be rewarded with a near-perfect version.
Rating: 9/10
Read more: I Tried Rachael Ray's Quick Chick and Noodle Soup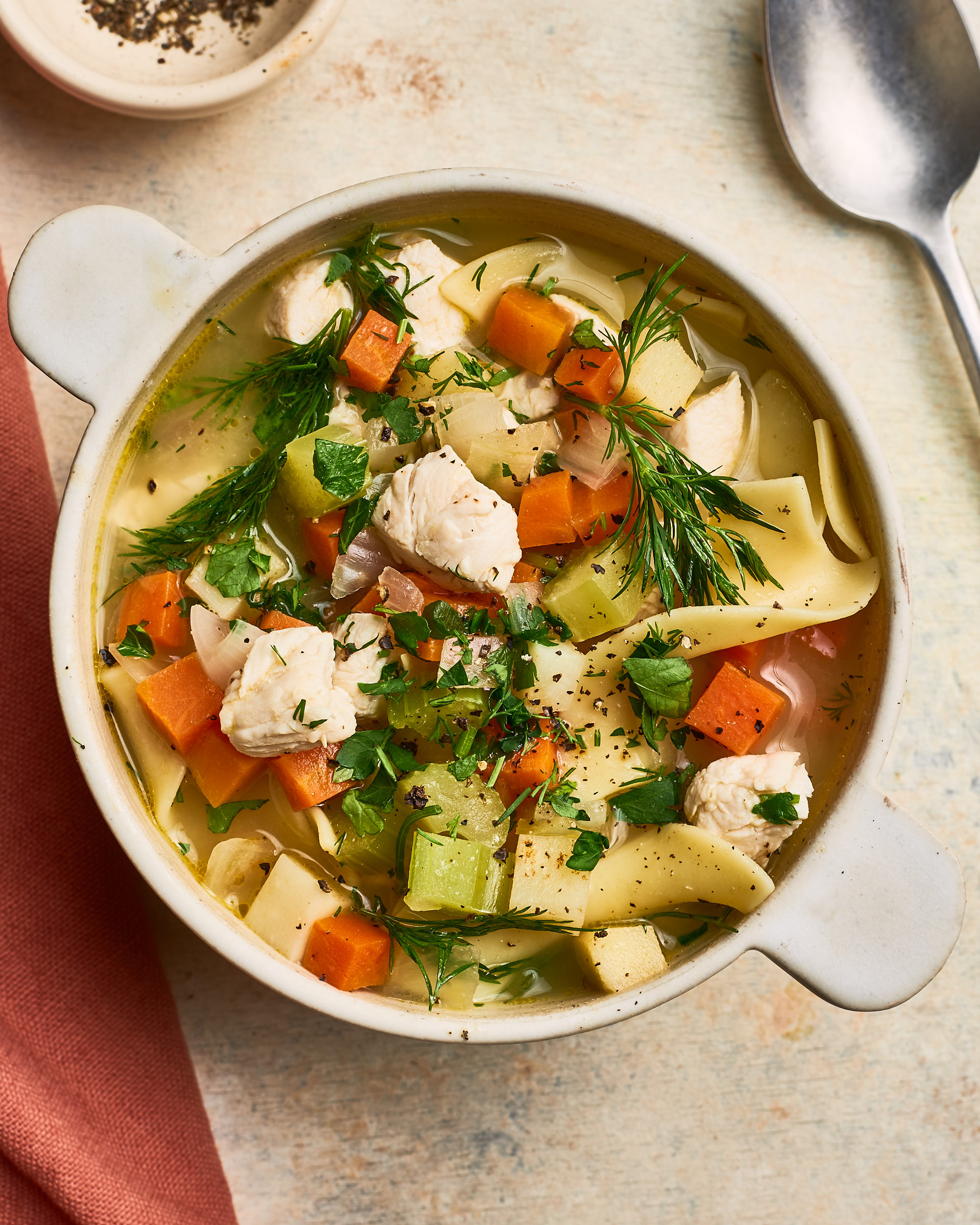 Your turn! What's your favorite chicken soup recipe? Tell us in the comments below.
Source: Read Full Article