Total:

45 min

Active:

35 min
Ingredients
1 pound baby Yukon gold potatoes, scrubbed (about 20)
Kosher salt
12 ounces smoked andouille sausage, sliced into 1/2-inch thick rounds
2 pounds (8 sticks) unsalted butter
6 cloves garlic, minced
1 teaspoon seafood seasoning, such as Old Bay, plus more for serving
4 ears of corn, shucked and cut into thirds
1 1/4 pounds jumbo shrimp, peeled and deveined
1 lemon, juiced
Chopped fresh parsley, for serving
Toasted crusty bread, for serving
Directions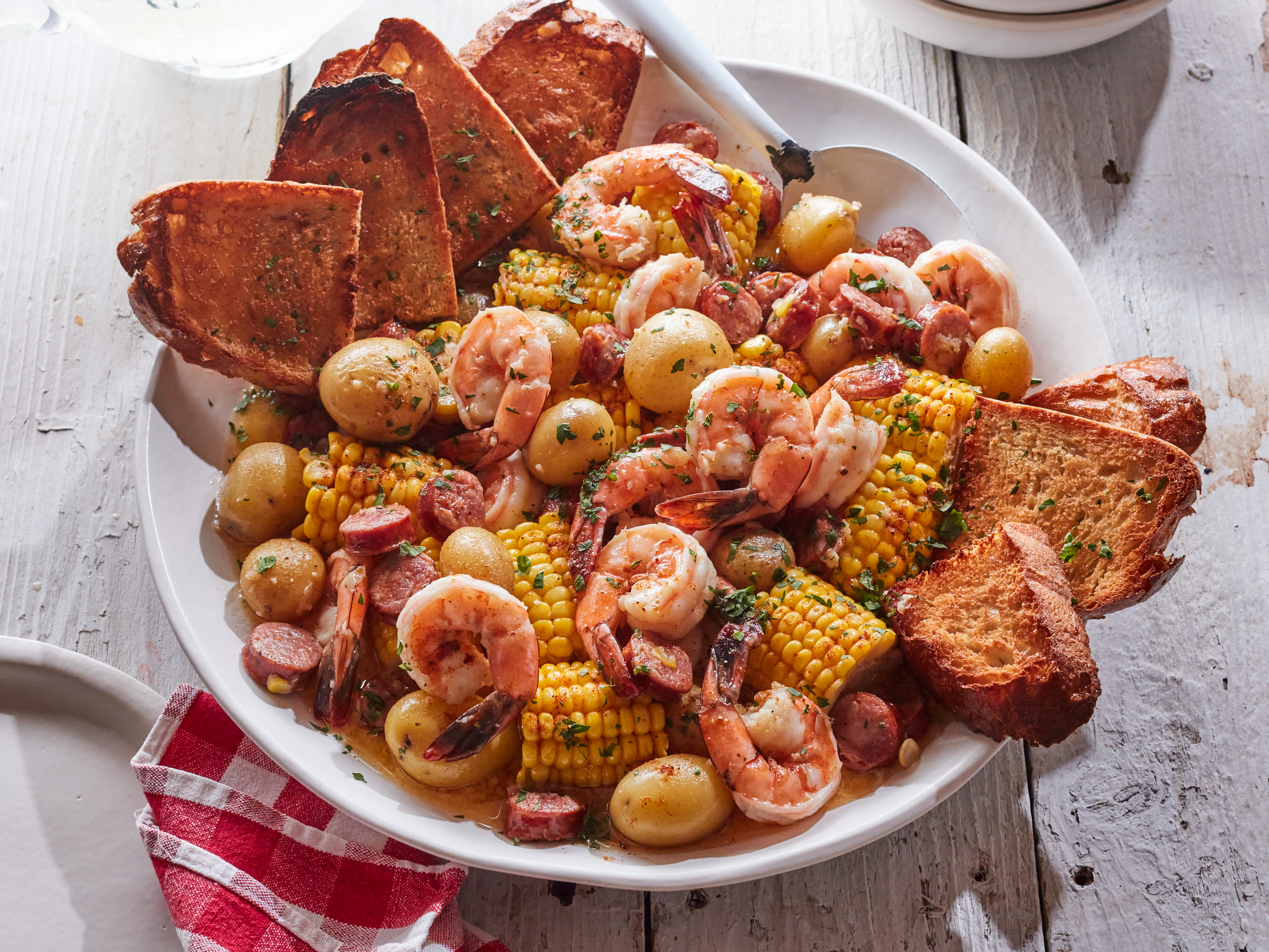 Add the potatoes to a large pot or Dutch oven and cover with cold water. Season with a generous pinch of salt. Bring to a boil over medium-high heat, then reduce the heat to medium-low and simmer until just knife-tender, 8 to 10 minutes. Transfer to a colander to drain and reserve.
Place the pot back over medium heat. Add the andouille and cook until lightly browned on all sides, about 4 minutes. Add the butter, garlic, seafood seasoning and 1 teaspoon of salt. Once the butter has completely melted and it's just starting to bubble at the edges, add the corn and cook until the kernels are bright yellow and tender, about 2 minutes. Add the shrimp, making sure all the pieces are fully submerged, then cook until pink and just opaque throughout, about 2 minutes more. Stir in the lemon juice and reserved potatoes to warm through.  
Ladle the andouille, shrimp, vegetables and butter sauce into a large serving. Top with parsley and a light sprinkle of additional seafood seasoning and serve with toasted crusty bread, for dipping.
Source: Read Full Article