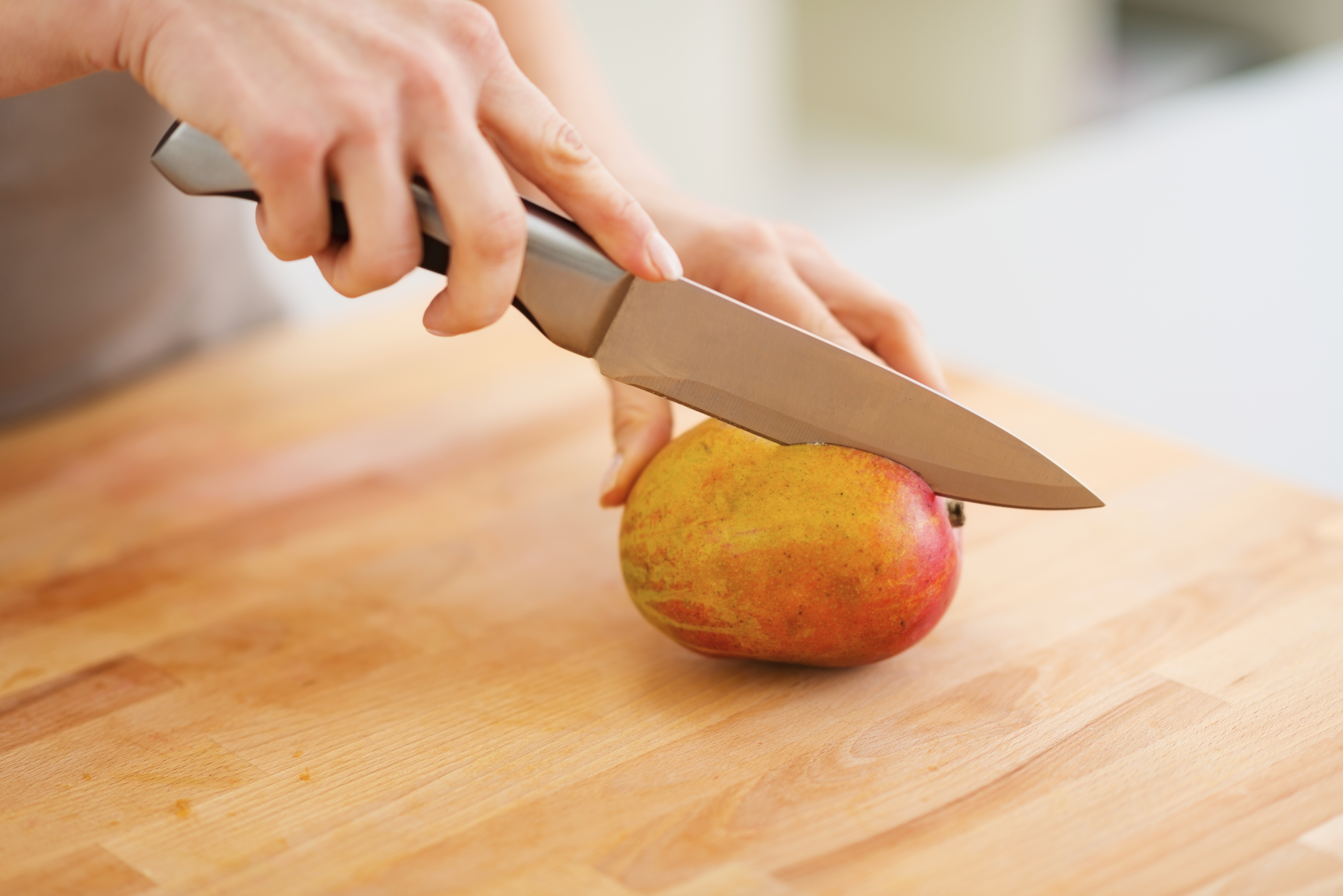 Everyone wants to be the cool kid who knows all the kitchen tricks. You know the kind — the friend who knows to store cooking tools diagonally because they're either too long or too short for your kitchen drawers anyway, or the pal who suggests you add a dash of salt to your coffee to stave off brew bitterness.
This desire has led to a deluge of viral videos purporting to know the "correct," most natural way to eat something — remember the pineapple hack? Now another tropical fruit (hello, mango) seems to be going through the viral fruit ringer.
This week on Twitter @nefertittie__ shared a video that purports to show the correct way to eat the best fruit in the entire universe (in my opinion), the mango.
"Y'all, we been eating mangoes wrong," @nefertittie__ says in her tweet, which has gone very viral. The video has been viewed 4.4 million times, retweeted 36,200 times, and favorited more than 120,900 times in a single day (as of this writing).
In the video, an unknown set of hands slices a ripe mango along its width. Afterwards, much like someone would an avocado, the hands twist and separate the top half of the mango. So, easy, right? Not so fast.
First, if you're familiar with when mangoes are in season, you might have to wait a little time before you can truly try this trick. Some mango varieties ripen in late March, which means the fruit has only recently re-entered local produce sections, and further most mango varieties ripen in June, July, and August.
Still, I tried this trick on two mangoes (of the Kent variety, if you were wondering) I got from my local supermarket. They were not the ripest mangoes, and so this trick totally failed. When I finally succeeded in twisting a mango into two pieces (it honestly felt like trying to trip a phone in half), summoning the power of Zeus himself, I sent one piece flying into my kitchen wall. Chubby Checker would never.
I likely failed in my task because of simple physics: if you look at the mango seed in the video, it's mostly cylindrical. The seed in a Kent mango, like most mangoes you can get in America, is more flat and disc-like, so the twist method simply won't work in those cases, unless you want mango juice and pulp all over everything but your tastebuds.
Still, there is hope if you want to impress your family and friends with your mango prowess. Here's a tip: you can use a drinking glass to easily skin your mangoes — after you safely cut them into pieces, of course — and go ahead and save the center seed for messily eating over the sink as your prize, like we all do.
Source: Read Full Article