Total:

1 hr 10 min

(includes resting time)

Active:

25 min
Ingredients
Sauce:
Ricotta Mixture:
Directions
Try this cooking class now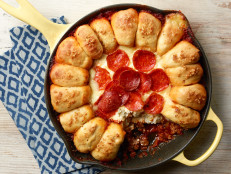 Try this cooking class now
Watch Class
Preheat the oven to 400 degrees F.
For the sauce: Heat the oil in a large ovenproof skillet over medium-high heat until shimmering. Add the sausage and cook, breaking it up with a wooden spoon, until lightly browned, 2 to 3 minutes. Stir in the marinara, scraping up any browned bits from the bottom of the skillet. Add the red pepper flakes if using and sprinkle with salt and several grinds of black pepper. Bring to a simmer, reduce the heat to medium low and cook, uncovered and stirring often, until thick, 8 to 10 minutes. Remove from the heat and set aside.
For the ricotta mixture: Shred half the mozzarella into a medium bowl. Stir in the ricotta, Parmesan and 1 clove garlic until combined. Set aside.
Assemble the dip: Cut the remaining mozzarella into thirds and then cut each third into 6 rectangular pieces for a total of 18 pieces of cheese. Divide the dough into 18 small pieces. Wrap each piece of dough around one of the mozzarella rectangles, so that the cheese is sealed inside the dough like a purse.  
Ring the edge of the skillet with the stuffed dough, placing the pieces seam side-down on top of the sauce. Spread the meat sauce around so that it fills the spaces between the dough. Dollop the ricotta mixture on top of the meat sauce in the center of the skillet (it will spread a bit while cooking). Distribute the pepperoni over the top of the ricotta mixture.  
Stir together the butter and remaining 2 cloves garlic in a small bowl and brush on the dough. 
Bake until the dough is golden brown and the ricotta mixture is melted and bubbly, 35 to 40 minutes. Let rest for 15 minutes before serving. 
Source: Read Full Article