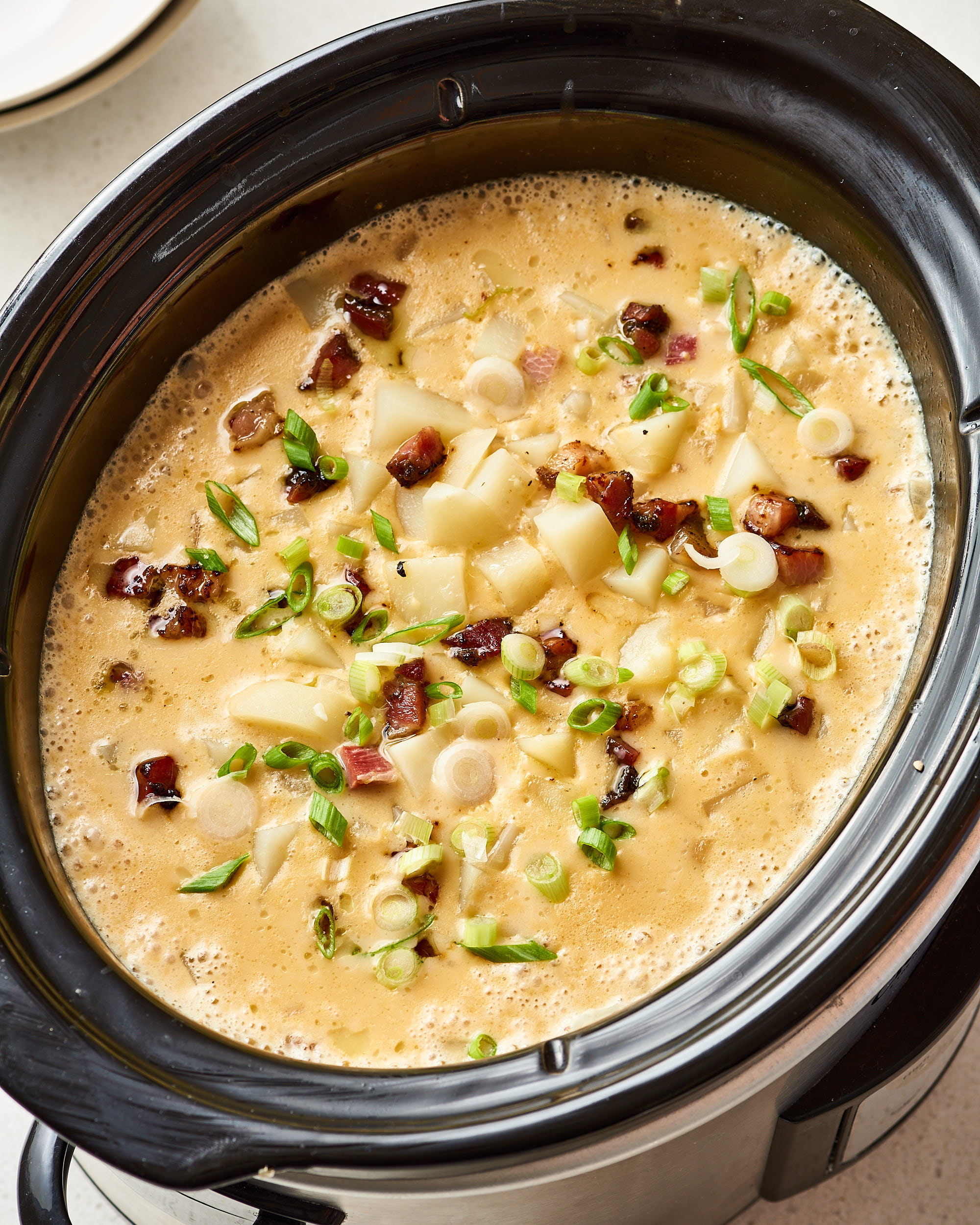 Spring is just around the corner, but that doesn't mean all our cravings for cozy, decadent meals have disappeared. If you too are looking for some simple weeknight comfort food, we've got you covered. Here are our 10 best creamy slow cooker recipes — the meals we turn to when we want something supremely satisfying, but still easy!
1. How To Make Easy Slow Cooker Potato Soup
Have you ever wanted a loaded baked potato, in soup form? This recipe is the answer. Chock-full of potatoes and pancetta, all this rich soup needs is a sprinkling of cheddar on top before serving.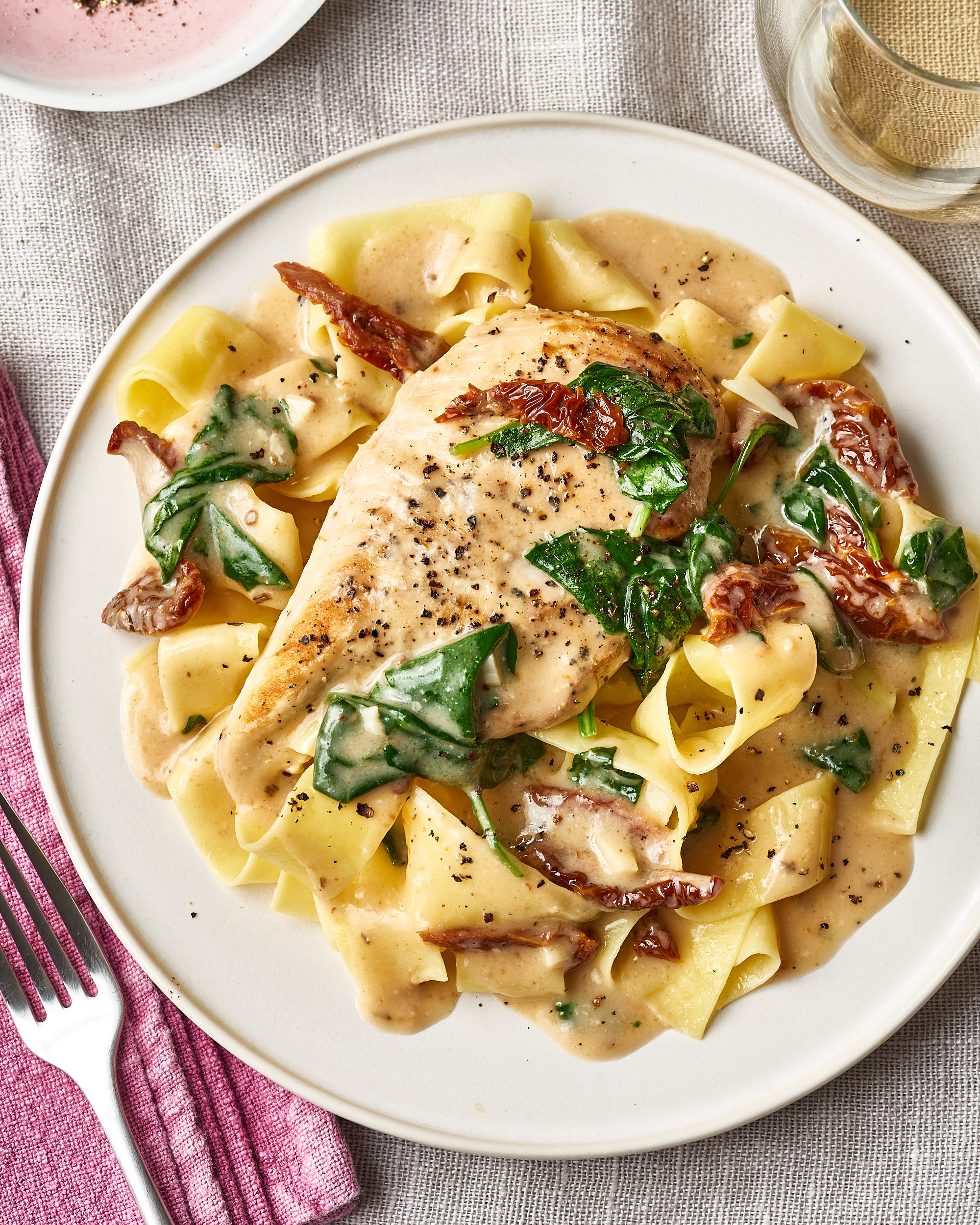 2. Slow Cooker Creamy Tuscan Garlic Chicken
The secret to this creamy Italian chicken flecked with sweet sun-dried tomatoes and wilted spinach is a jar of store-bought Alfredo sauce. Just serve over pasta and you've got dinner!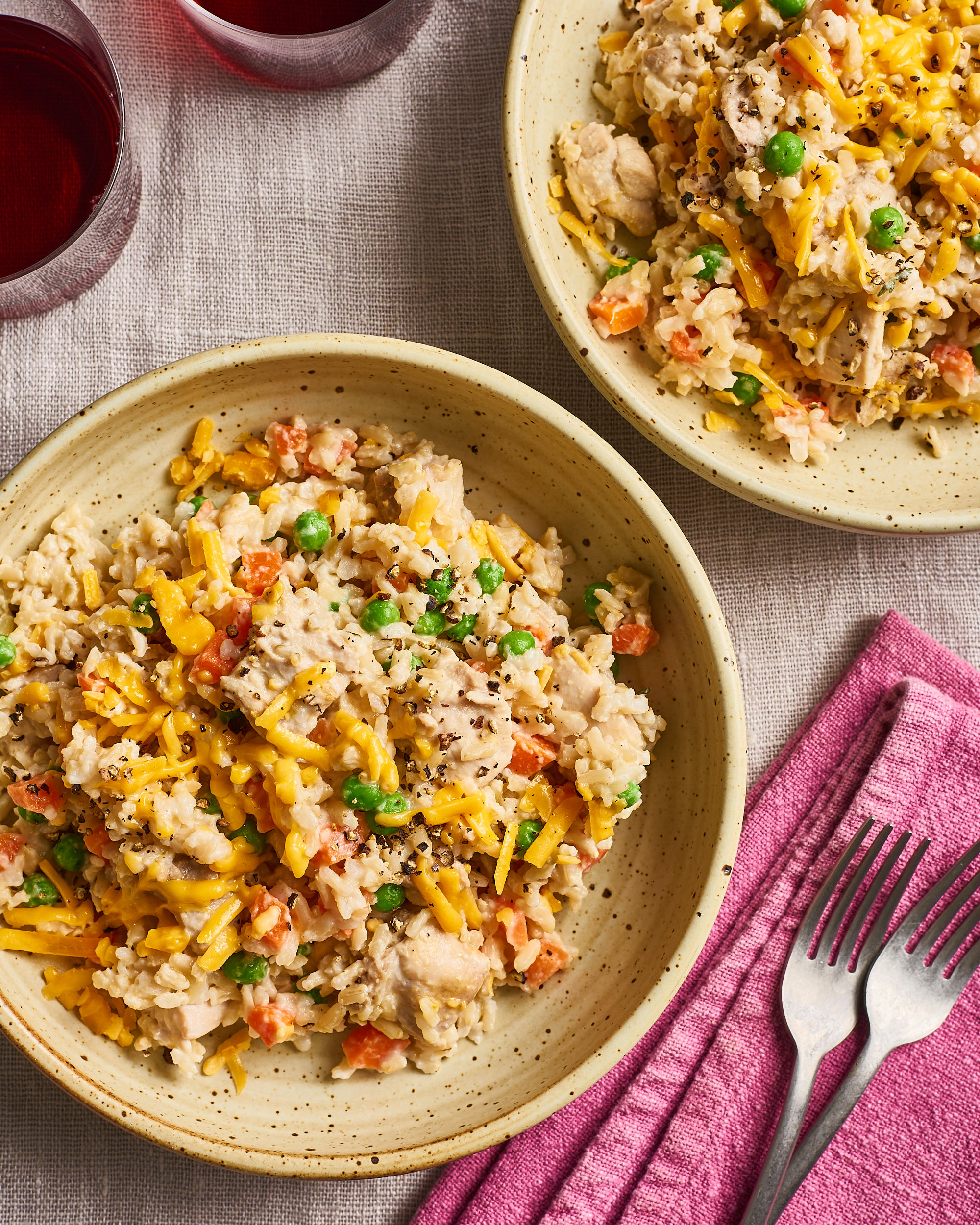 3. The Best Creamy, Cheesy Slow Cooker Chicken and Rice
This family-friendly dish takes just 20 minutes to prep and uses pantry staples you probably already have at home. It's the easy weeknight dinner you've been looking for!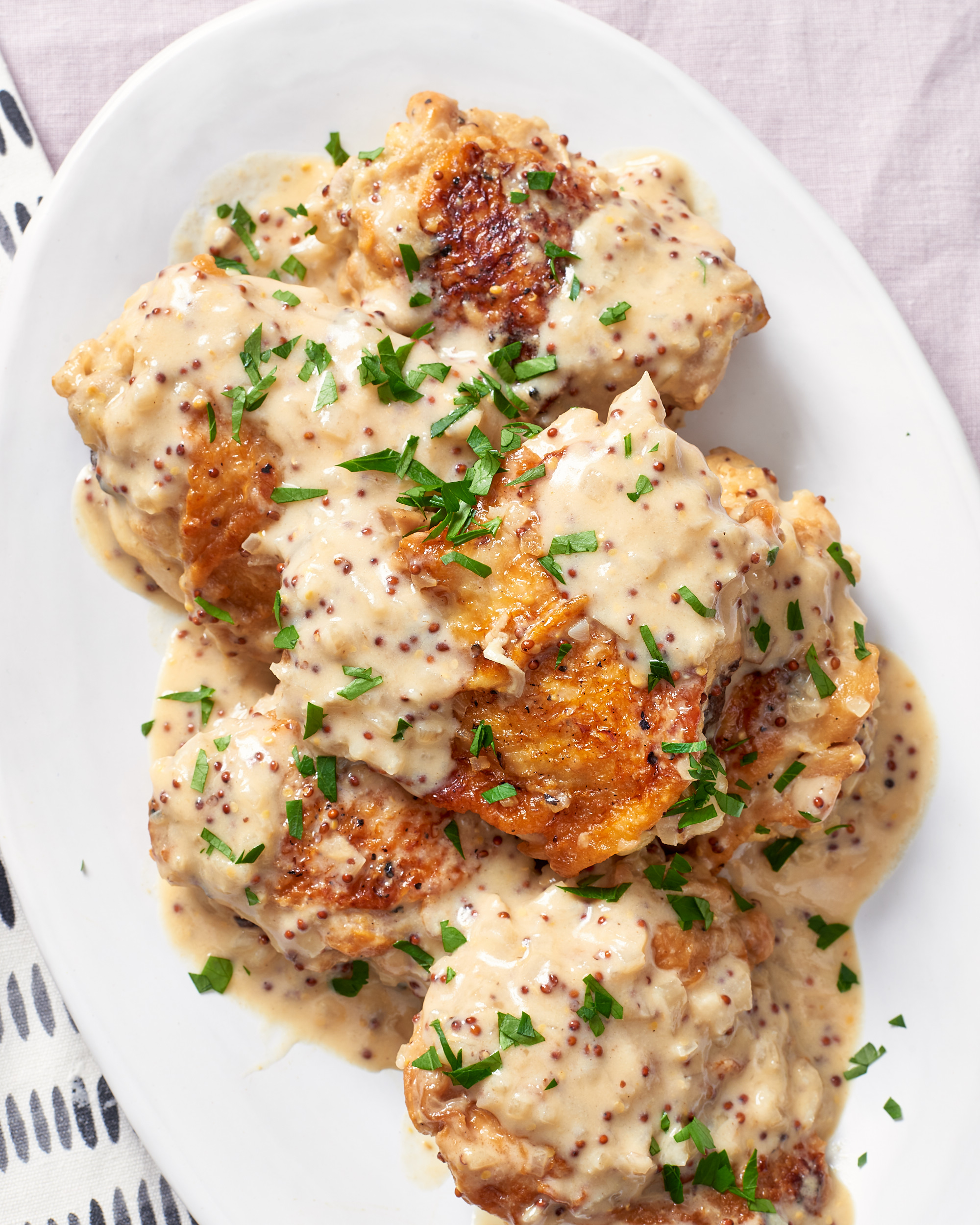 4. Slow Cooker Creamy French Mustard Chicken
Want to be instantly transported to France? Make this easy chicken dish, which comes together in a classic sauce of mustard, white wine, shallots, and cream.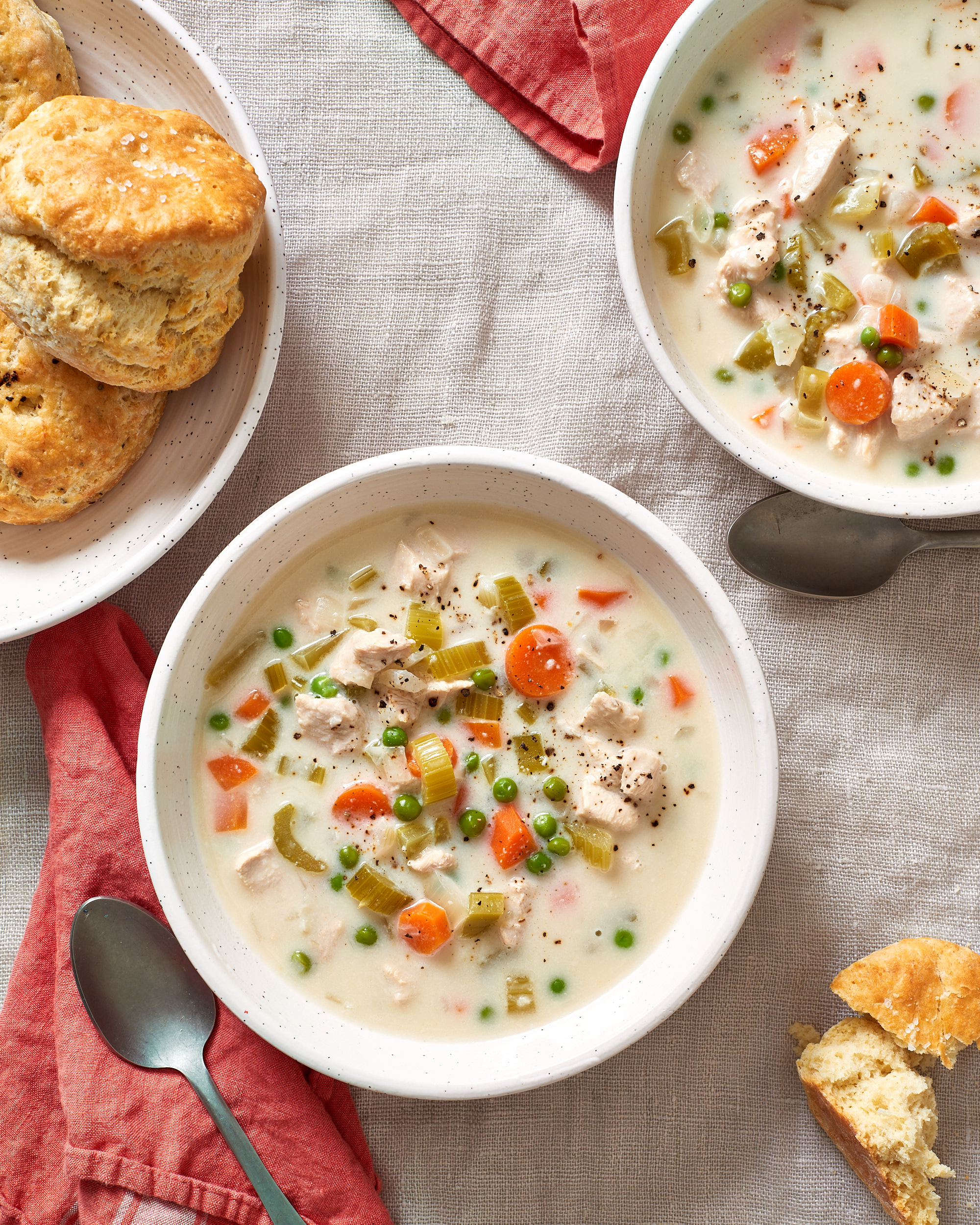 5. How To Make Slow Cooker Cream of Chicken Soup
This is the recipe to whip up when you're craving chicken pot pie, but don't have the time or energy to actually make it. Just don't forget to have some biscuits ready for dunking!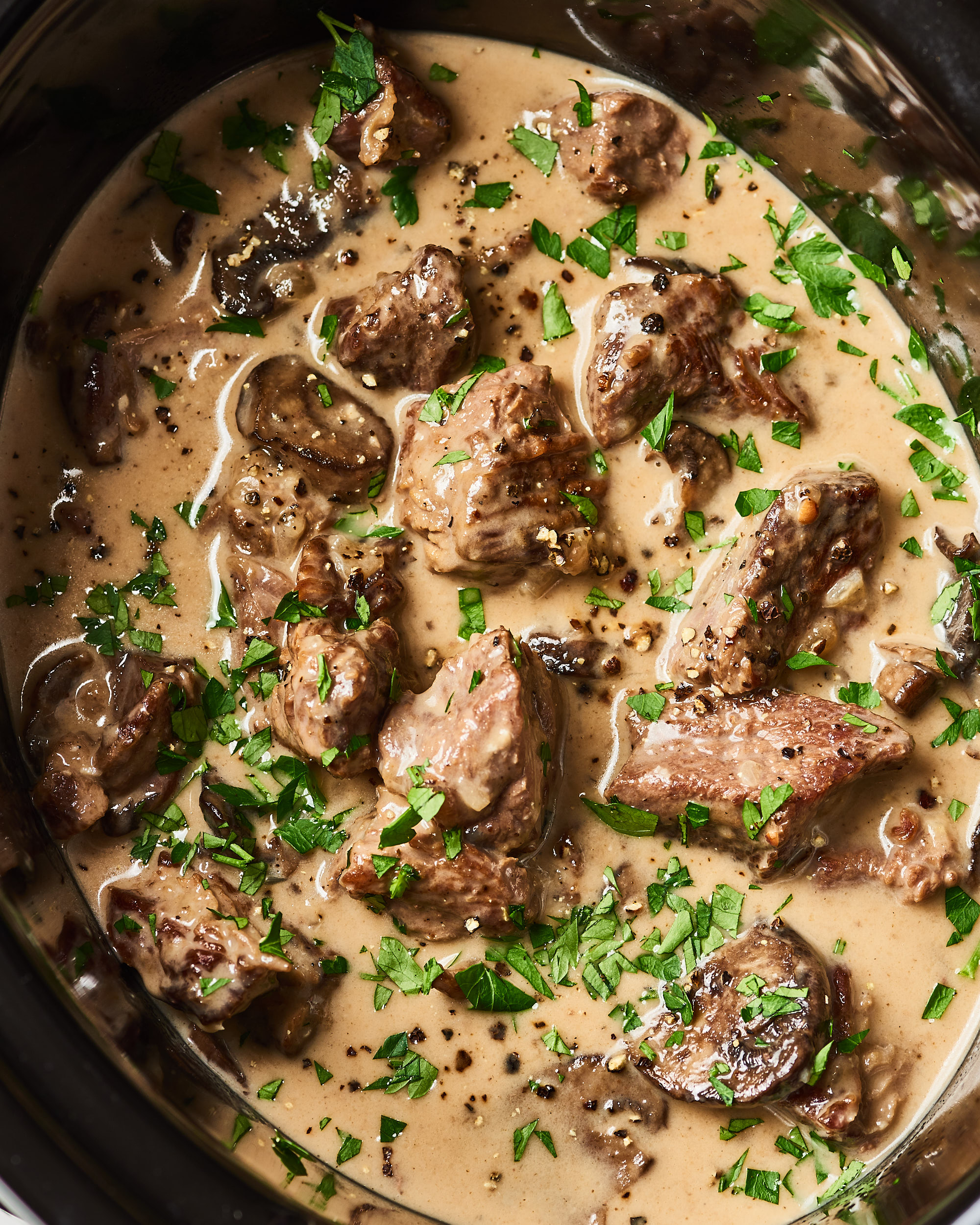 6. Easy Slow Cooker Beef Stroganoff
This update on the classic ditches the canned condensed soup, but it's no less easier! The key to its creamy consistency is stirring in some sour cream before serving.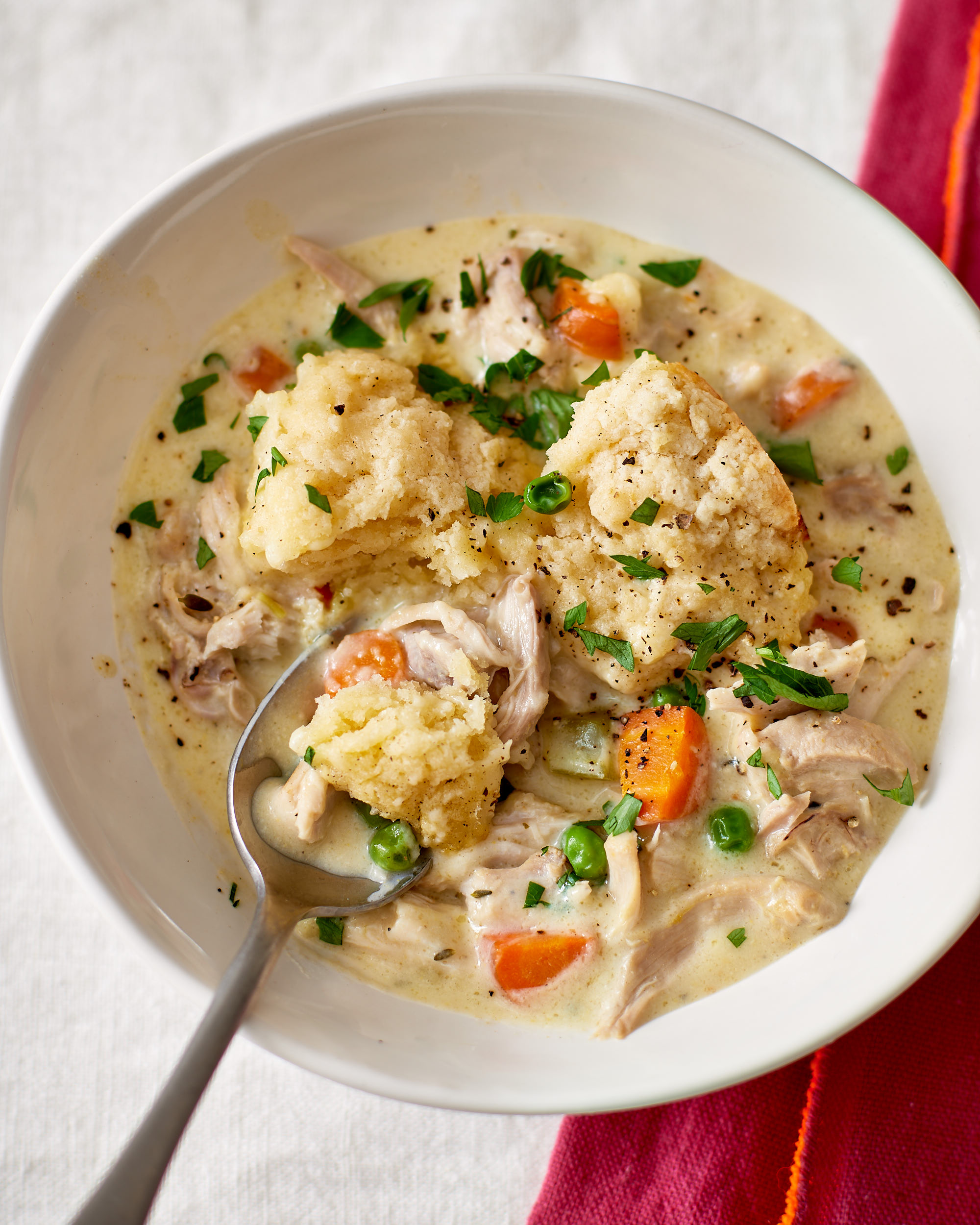 7. Slow Cooker Chicken and Dumplings
Everything for this recipe happens in the slow cooker. First you make the creamy chicken portion, then you top the whole thing with dumpling dough and let it cook for a couple of hours, and voila! Chicken and dumplings in the slow cooker.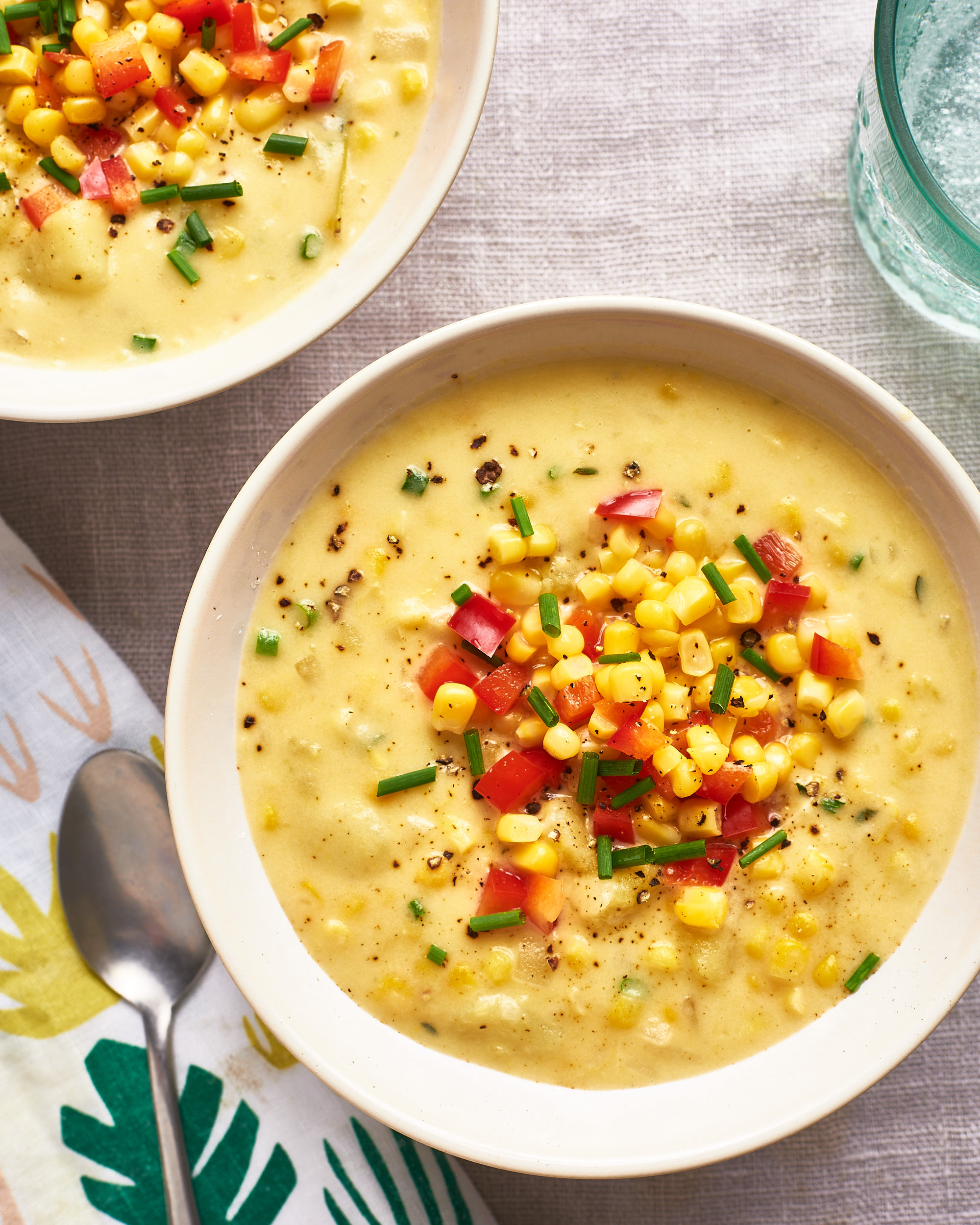 8. Light & Fresh Slow Cooker Corn Chowder
Even in peak corn season, it's best to use frozen corn for this easy recipe. It cooks all day on LOW, so you can prep before work and come home to a comforting meal.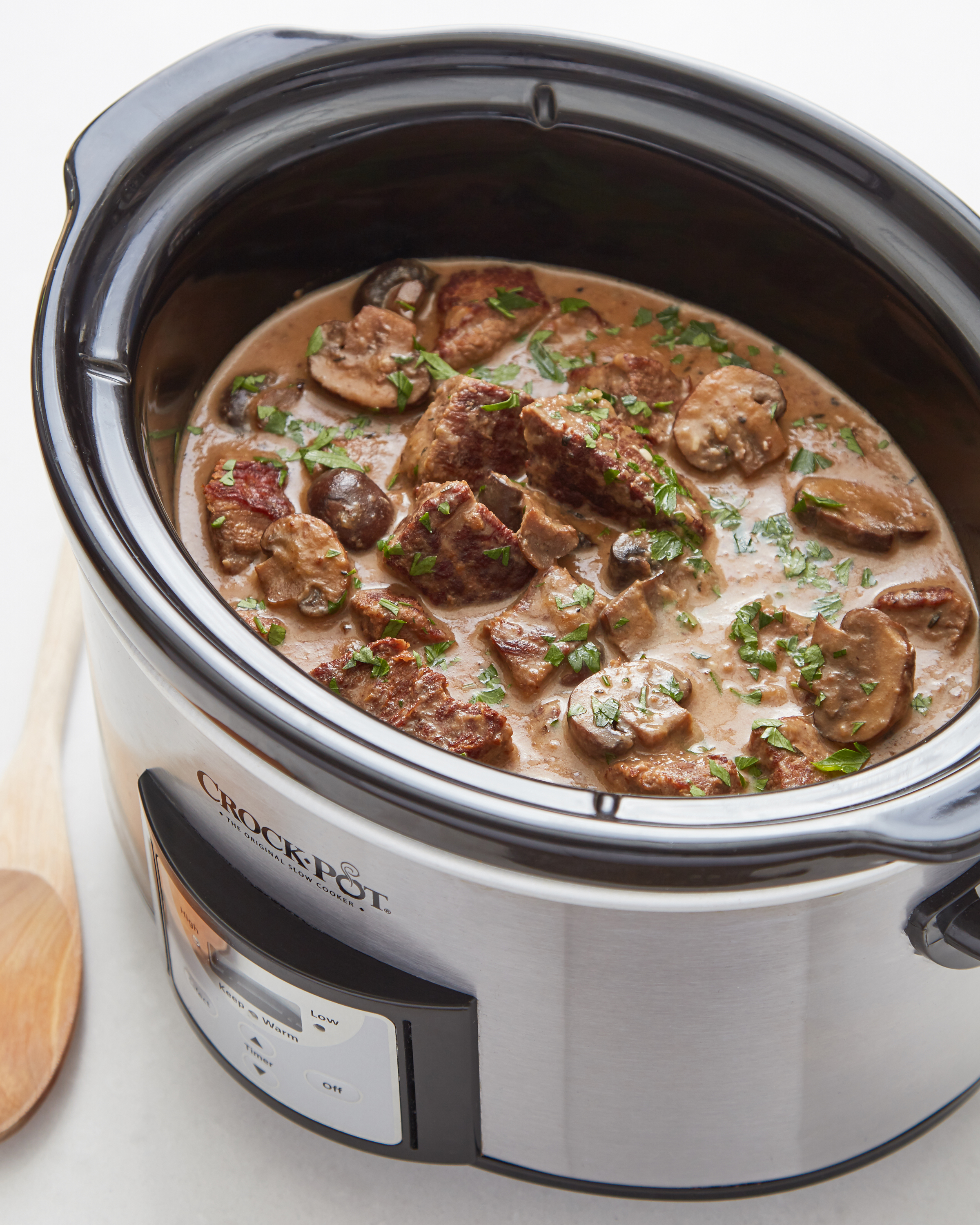 9. Slow Cooker Beef Tips with Mushroom Gravy
This hearty beef stew cooks all day on the LOW setting, resulting in a flavorful mushroom gravy that's perfect for serving over egg noodles or mashed potatoes. It's a true comfort classic.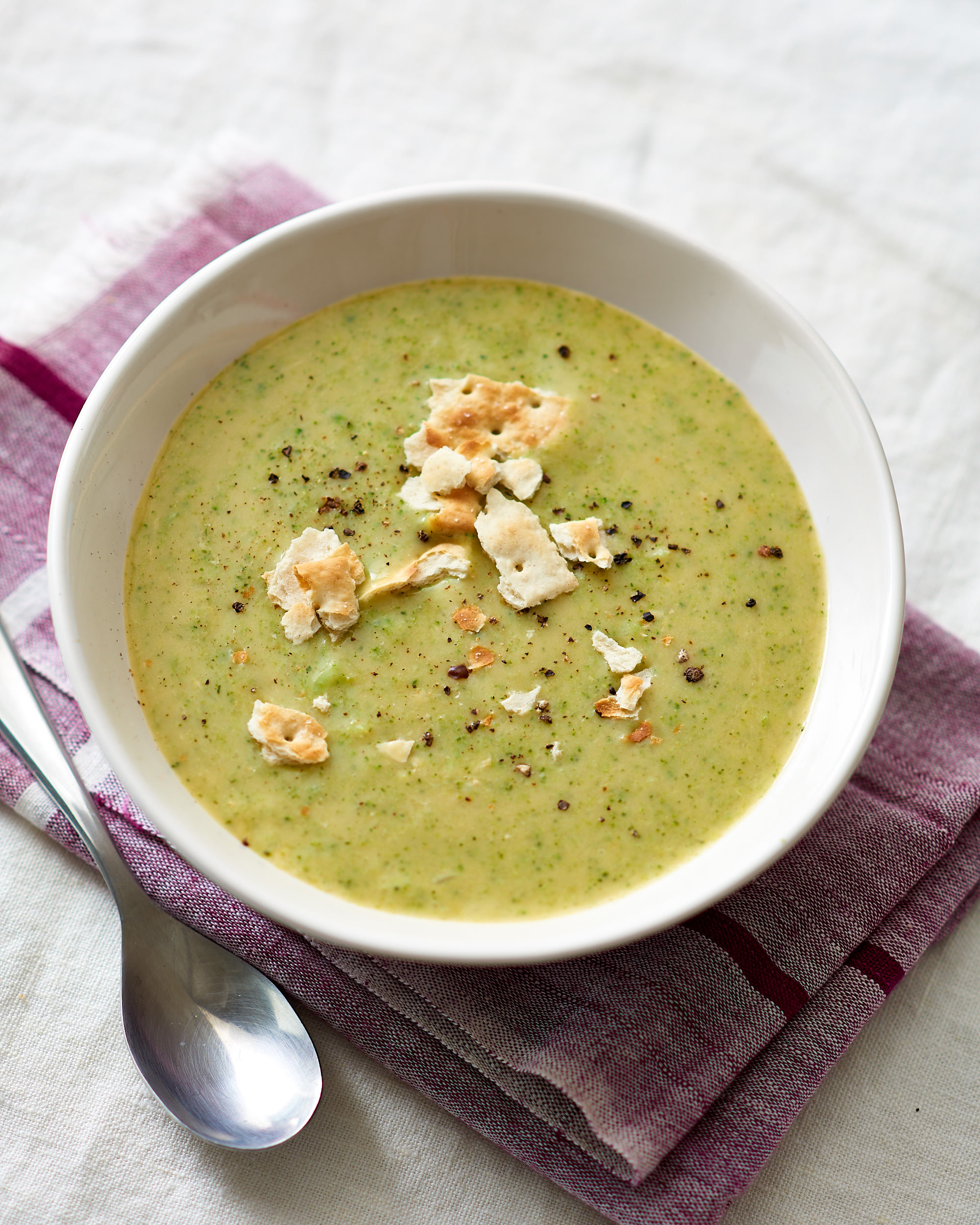 10. The Pioneer Woman's Slow Cooker Broccoli Cheddar Soup
You know any recipe from the Pioneer Woman is going to be decadent and delicious — and this one is no exception. The secret? Instead of making a roux, Ree calls for cans of cream of celery soup. Just trust her on this one!
What are your favorite creamy slow cooker recipes? Let us know in the comments!
Source: Read Full Article