Total:

40 min

Active:

25 min
Yield:

4 servings

Nutrition Info

Nutritional Analysis

Per Serving

Calories

492

Total Fat

29 grams

Saturated Fat

15 grams

Cholesterol

89 milligrams

Sodium

1098 milligrams

Carbohydrates

36 grams

Dietary Fiber

4 grams

Protein

23 grams
Ingredients
3 slices bacon
1 small onion, chopped
2 medium apples, peeled and chopped
1 medium potato, peeled and chopped 
3 cups low-sodium chicken broth
1 1/2 cups unsweetened apple juice
Kosher salt and freshly ground pepper 
2 cups shredded extra-sharp cheddar cheese (about 8 ounces)
2 slices rye bread, toasted
2 teaspoons Dijon mustard
Chopped fresh chives, for topping
Directions
Try this cooking class now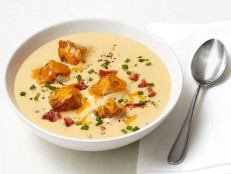 Try this cooking class now
Watch Class
Cook the bacon in a large pot over medium heat until crisp, 4 to 5 minutes per side. Transfer to paper towels to drain; let cool slightly, then roughly chop. Pour out all but 2 tablespoons of the drippings from the pot.
Increase the heat under the pot to medium high. Add the onion, apples and potato and cook, stirring frequently, until the apples are soft, about 8 minutes. Add the chicken broth, apple juice, 3/4 teaspoon salt, and pepper to taste. Bring to a simmer and cook until the potato is soft, 10 to 12 minutes. Stir in all but 2 tablespoons of the cheddar until melted. Working in batches, transfer the soup to a blender and puree. Return to the pot and season with salt and pepper.
Meanwhile, preheat the broiler. Spread the bread with the mustard and sprinkle with the reserved 2 tablespoons cheese. Broil until the cheese melts, about 30 seconds, then cut into 1-inch squares. Ladle the soup into bowls and top with the bacon, chives, cheese croutons and more pepper.
Cook's Note
When blending hot liquids, first let cool for 5 minutes or so, then transfer to a blender, filling only halfway. Put the lid on, leaving one corner open; Cover the lid with a kitchen towel to catch splatters and pulse until smooth.
Source: Read Full Article