Total:

40 min

Active:

10 min
Ingredients
1 1/2 cups panko
5 tablespoons vegetable oil
3 tablespoons grated Parmesan
2 teaspoons dried Italian seasoning
Kosher salt and freshly ground black pepper
Four 3/4-inch bone-in pork chops (about 2 1/4 pounds)
Lemon wedges, for serving, optional
Directions
Try this cooking class now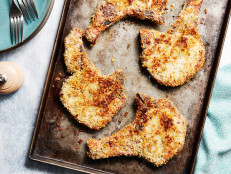 Try this cooking class now
Watch Class
Preheat the oven to 450 degrees F. 
Combine the panko, oil, Parmesan, Italian seasoning and 3/4 teaspoon each salt and pepper in a large resealable plastic bag. Put the pork chops in a large bowl and toss to coat with 1 tablespoon water. Place the pork chops in the bag and shake well to coat, pressing the breadcrumb mixture firmly into the meat.
Place the pork chops on a wire rack set on a baking sheet and top evenly with any breadcrumbs remaining in the bag. Bake until the breadcrumbs are dark golden and the internal temperature of the chops registers 145 degrees F on an instant-read thermometer (avoid touching bone), 15 to 20 minutes.
Serve immediately with lemon wedges if using.
Source: Read Full Article