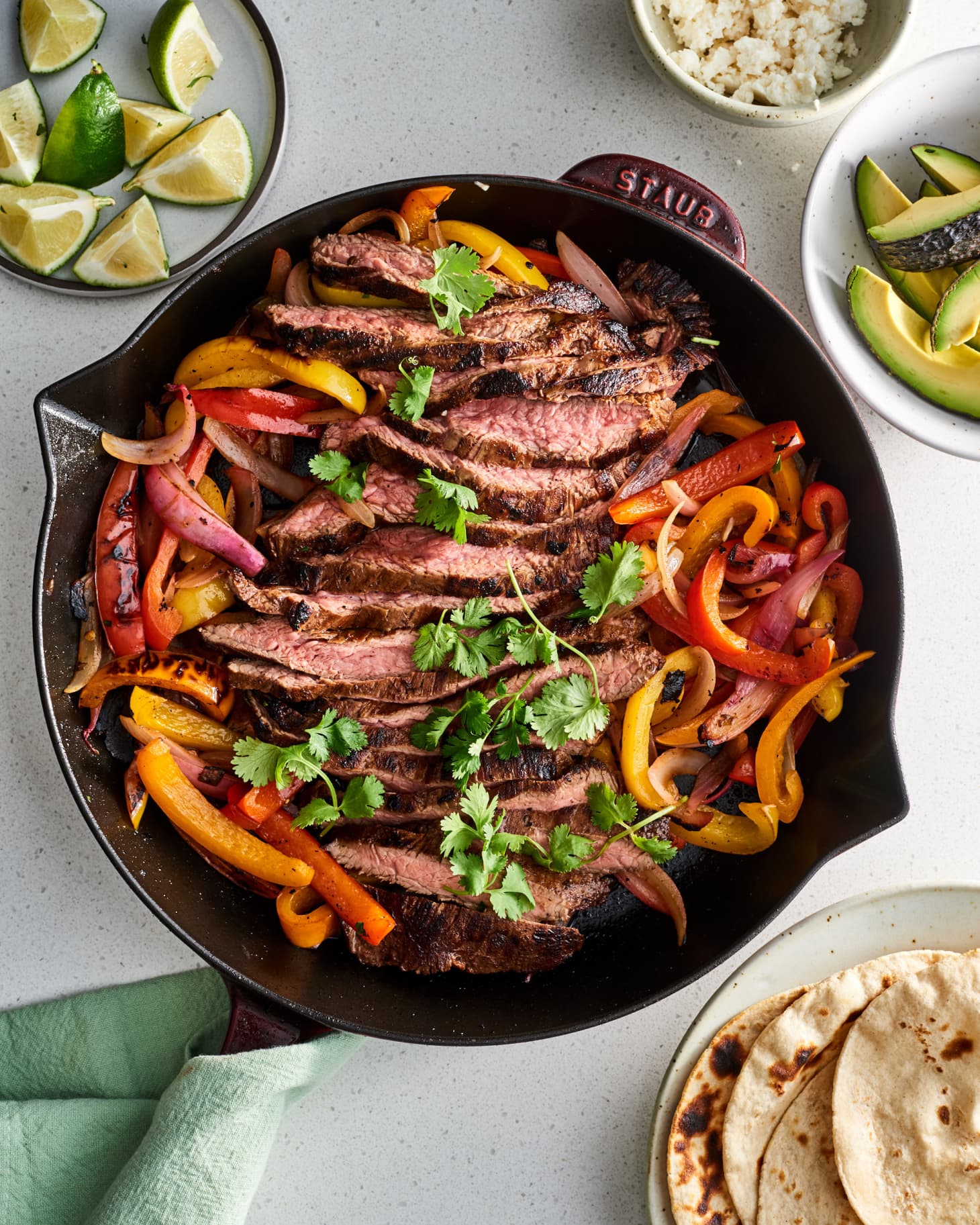 Ever since I was little, going out for fajitas has been one of my favorite things. I love the moment when the hot, sizzling skillet arrives at the table, the wafts of steam twisting up towards me and the peppers and onions still jumping in the skillet. And I love that I'm left up to my own devices to make the fajitas as I wish, filling them one by one with a scoop of guacamole and a sprinkle of cheese before rolling one up and taking a big bite.
This recipe preserves all the things that make fajitas so fun and enjoyable, while also transforming the restaurant favorite into an easy, accessible weeknight meal. Read on for my tips that make it a breeze every time.
1. Start with flavor-packed ingredients for the easiest-ever marinade.
Rather than calling for a long list of ingredients, this marinade uses ones that do the work for you: namely, chipotle peppers. Chipotle peppers in adobo are jalapeños marinated in vinegar, salt, cumin, oregano, and other spices (read: they're a flavor powerhouse). You'll add between a teaspoon and a tablespoon, depending on how spicy you like your fajitas. (Here's how to save the leftovers).
You'll also add chili powder — another bold blend of spices — along with lime juice, which brightens up the marinade and tenderizes the meat, and fresh garlic.
2. Pat your steak dry for a beautifully brown crust .
After the marinade infuses the steak with flavor, you'll want to pat the exterior dry with paper towels so that it can achieve a beautiful crust. (The drier the steak, the better the crust.) You'll also want to make sure that each piece of steak is making contact with the hot pan, so avoid overcrowding the pan and overlapping the meat. Work in batches, if needed.
3. Prep the veggies while you marinate the meat.
For the quickest dinner, work in the following order: Make the marinade, add the steak, set aside at room temperature, then cut the peppers and onions while the steak marinates. As the peppers and onions cook, set the table and finish last-minute toppings, like the guacamole. Make sure to top it with some fresh lime juice to avoid browning, then give it a good mix before serving.
Steak Fajitas
Ingredients
2

canned chipotle peppers in adobo, minced

2

small cloves garlic, minced

1 1/2

teaspoons

chili powder, divided

Juice of 3 medium limes (about 3 tablespoons)

5

tablespoons

olive oil, divided, plus more as needed

1 1/2

pounds

skirt or flank steak, cut crosswise into 5-to-6-inch pieces to fit in the pan

Kosher salt

Freshly ground black pepper

3

medium red, orange or yellow bell peppers, seeded and sliced into 1/2-inch strips

1

medium jalapeño pepper, seeded and finely chopped

2

medium red or yellow onions, sliced

12

corn or small flour tortillas
For serving:
Guacamole

Shredded lettuce

1

cup

queso fresco, Cheddar, or Monterey Jack cheese, crumbled or shredded

1

cup

fresh cilantro leaves and fine stems, roughly chopped or left whole

2

medium limes, cut into wedges
Instructions
Place the chipotle peppers, garlic, 1 teaspoon of the chili powder, lime juice, and 2 tablespoons of the oil in a shallow bowl or sealable plastic bag and stir to combine. Season the steak with salt and pepper, then place in the marinade, making sure to coat it well. Set aside for 30 minutes or up to an hour at room temperature. Use this time to prep the remaining ingredients.

Warm the tortillas one at a time in a dry skillet over medium heat and wrap in aluminum foil or a clean kitchen towel to keep warm; set aside.

Remove the steak from the marinade and pat dry with paper towels. Discard the marinade. Heat 1 tablespoon of the oil in large cast-iron or heavy frying pan over medium-high heat until just starting to smoke. (Remember to turn on your fan or open some windows as it might get smoky.) Working in batches if needed, add the steak and sear undisturbed 1 minute. Flip and continue to cook, flipping every minute, until both sides have a nice char on them, about 4 minutes total for medium rare. Transfer the steak to a clean cutting board, loosely cover with aluminum foil, and let rest while you cook the peppers and onions.

In the same pan without wiping it out (unless there is a lot of char in the pan), heat 2 more tablespoons of the oil over medium heat until shimmering. (Use less oil if there is a lot of remaining oil in the pan.) Add the peppers, onion, remaining 1/2 teaspoon chili powder, and a pinch of salt, and cook, stirring occasionally, until onions and peppers have softened and have a silky look and feel to them, about 15 minutes. Meanwhile, use this time to set up the table and the accompaniments. When the pepper-onion mixture is close to being done (after about 10 minutes), cut the steak across the grain into 1/2-inch wide strips.

When you're ready to eat, place the sliced steak on top of the onions and peppers in the skillet or transfer to a warm serving platter. (The steak will warm up a little from the residual heat of the peppers, which will also lightly cook it a bit more, so wait until you're ready to eat.) Serve with the tortillas, guacamole, lettuce, cheese, cilantro, and lime wedges.
Recipe Notes
Heating tortillas: You can heat the tortillas in a microwave for about 20 to 25 seconds in a clean kitchen towel instead of using the stove top or heat in the oven at 200ºF until warmed through. Wrap in foil and keep them in the oven.
Storage: Leftovers can be refrigerated in an airtight container for up to 4 days.
Source: Read Full Article