Ingredients
Meatballs:
Sandwiches:
Marinara Sauce:
Directions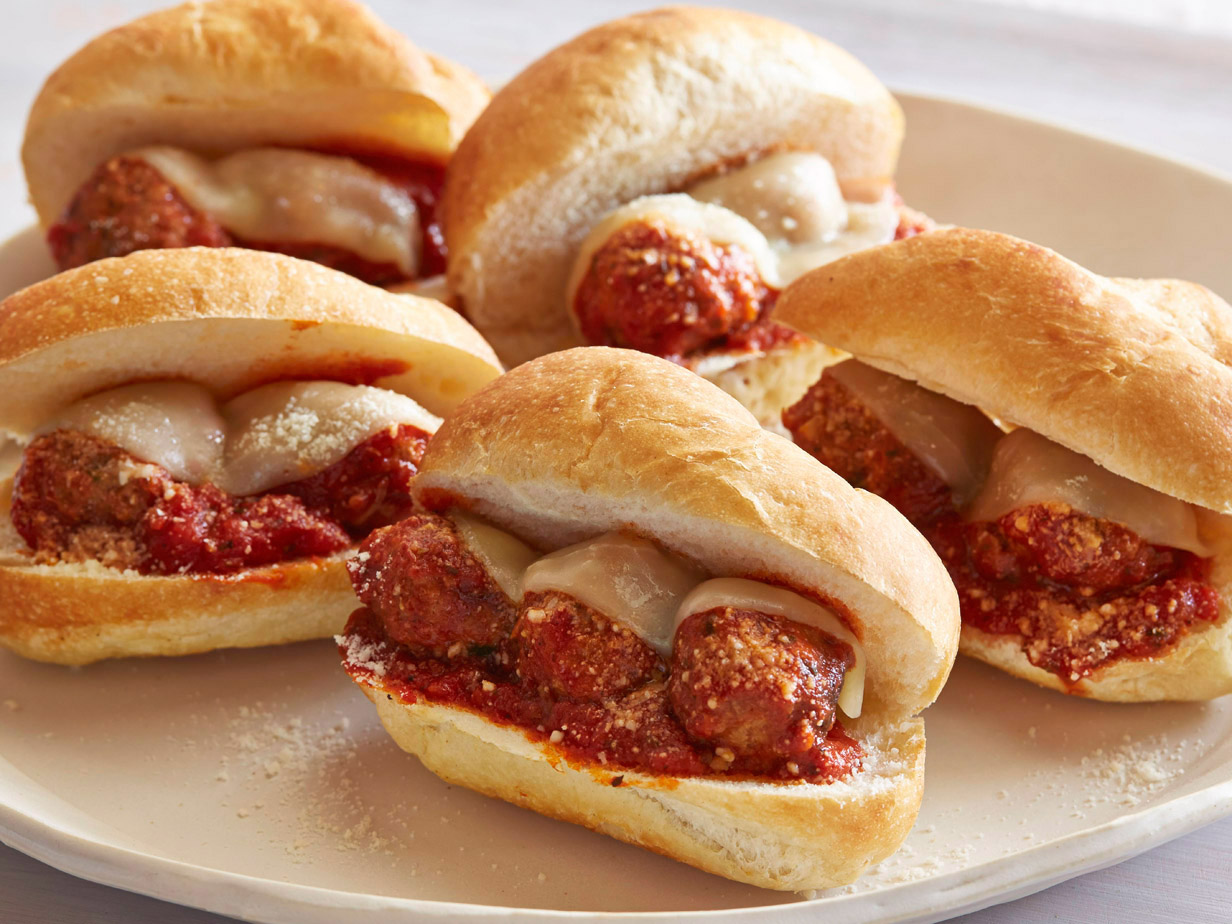 To make the meatballs: Whisk the first 7 ingredients in a large bowl to blend. Stir in the cheese and bread crumbs. Mix in the beef, veal, and pork. Using about 2 tablespoons of meat for each, shape the meat mixture into 1 1/4 to 1 1/2-inch-diameter meatballs. Place on a baking sheet. 
Heat the oil in heavy large frying pan over medium-high heat. Working in 2 to 3 batches, add the meatballs and saute until browned on all sides, about 5 minutes. Using a slotted spoon, transfer the meatballs to a plate. Pour off any excess oil. Return all the meatballs to the pan. Add the Marinara Sauce. Simmer over medium-low until the sauce thickens slightly and the flavors blend, about 10 minutes. Season the sauce, to taste, with salt and pepper. (The meatball mixture can be made 1 day ahead. Cool, then cover and refrigerate. Rewarm over medium heat before continuing.) 
To make the sandwiches: Spoon the hot meatballs with some sauce over the bottoms of the rolls. Place 1/2 slice provolone on top of meatballs and sprinkle with the Parmesan. Spread more sauce over the roll tops, then fold the tops of the rolls over and serve.
Marinara Sauce:
In a large casserole pot, heat the oil over a medium-high flame. Add the onions and garlic and saute until the onions are translucent, about 10 minutes. Add the celery, carrots, and 1/2 teaspoon of each salt and pepper. Saute until all the vegetables are soft, about 10 minutes. Add the tomatoes and bay leaves, and simmer uncovered over low heat until the sauce thickens, about 1 hour. Remove and discard the bay leaves. Season the sauce with more salt and pepper, to taste. (The sauce can be made 1 day ahead. Cool, then cover and refrigerate. Rewarm over medium heat before using.) 
Cook's Note
The sandwiches can be assembled then wrapped individually in foil. Rewarm the sandwiches in the oven at 350 degrees F for about 15 minutes.
Source: Read Full Article