Looking to shake things up with the classic banana pudding? We took our love of s'mores and layered it into our favorite pudding. Filled with marshmallows, graham crackers, chocolate and still plenty of whipped cream. It's a true summer dream.
Have you made this yet? Let us know how it went in the comments below!
Yields: 12 servings
Prep Time: 0 hours15 mins
Total Time: 3 hours35 mins
Ingredients
1 1/3c. whole milk
1 (3.9-oz.) package instant chocolate pudding mix
1 (14-oz.) can sweetened condensed milk
3 c. heavy cream
1 c. marshmallow fluff, microwaved for 10 seconds
1 tsp. pure vanilla extract
3 c. crushed graham crackers, plus quartered graham crackers for garnish
4 bananas, sliced into coins
3 Hershey's chocolate bars, broken into squares
2 c. mini marshmallows
This ingredient shopping module is created and maintained by a third party, and imported onto this page. You may be able to find more information about this and similar content on their web site.
Directions
Make pudding: In a large mixing bowl, combine milk, pudding mix and sweetened condensed milk. Whisk thoroughly, breaking up any lumps, and refrigerate until set, about 5 minutes.
Make whipped cream: In another large bowl, combine heavy cream, marshmallow fluff and vanilla. Beat with a hand mixer until stiff peaks form.
Cover the bottom of a three-quart trifle dish with a couple handfuls of crushed graham crackers. Top with one-third of the pudding, followed by a layer of banana slices. Add half of the whipped cream. Cover with marshmallows, chocolate bars, and more graham crackers — you may want to also stand some whole graham crackers up vertically, so you see the full circle along the edge of the trifle dish.
Repeat layering process once more with remaining ingredients, ending with a final layer of whipped cream sprinkled with marshmallows, chocolate bars, and graham crackers.
Refrigerate for at least 3 hours, or up to overnight.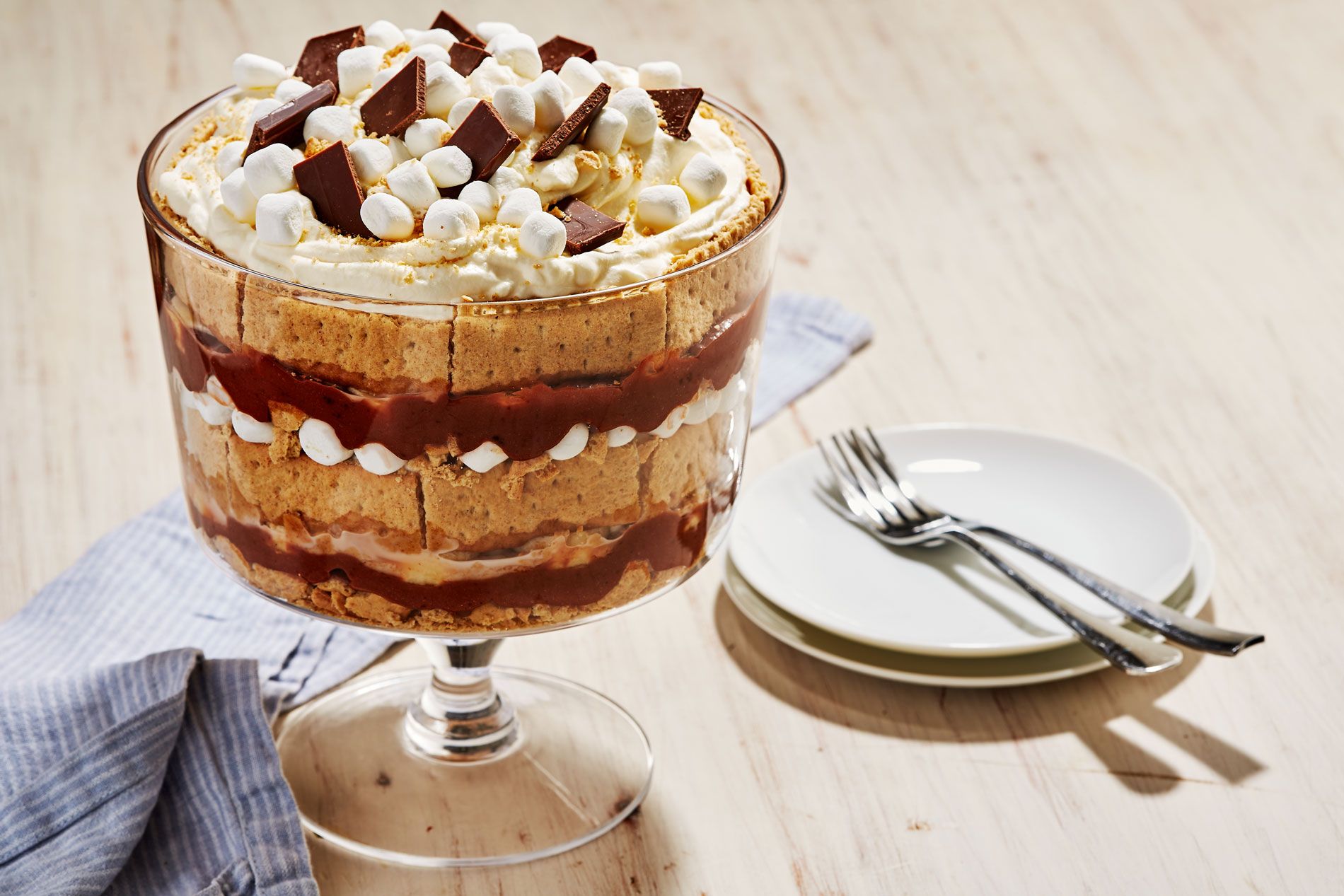 Source: Read Full Article