Total:

3 hr

(includes marinating time)

Active:

40 min
Ingredients
2 cups buttermilk
1 teaspoon crushed red pepper flakes
Kosher salt and freshly ground black pepper
8 bone-in, skin-on chicken thighs (about 3 pounds)
Vegetable oil, for frying
3 cups all-purpose flour
1 teaspoon Italian seasoning
One 32-ounce jar marinara
One 8-ounce piece part-skim mozzarella, sliced into 8 thick slices
2 tablespoons grated Parmesan, plus more for garnish
8 ounces spaghetti
8 fresh basil leaves
Directions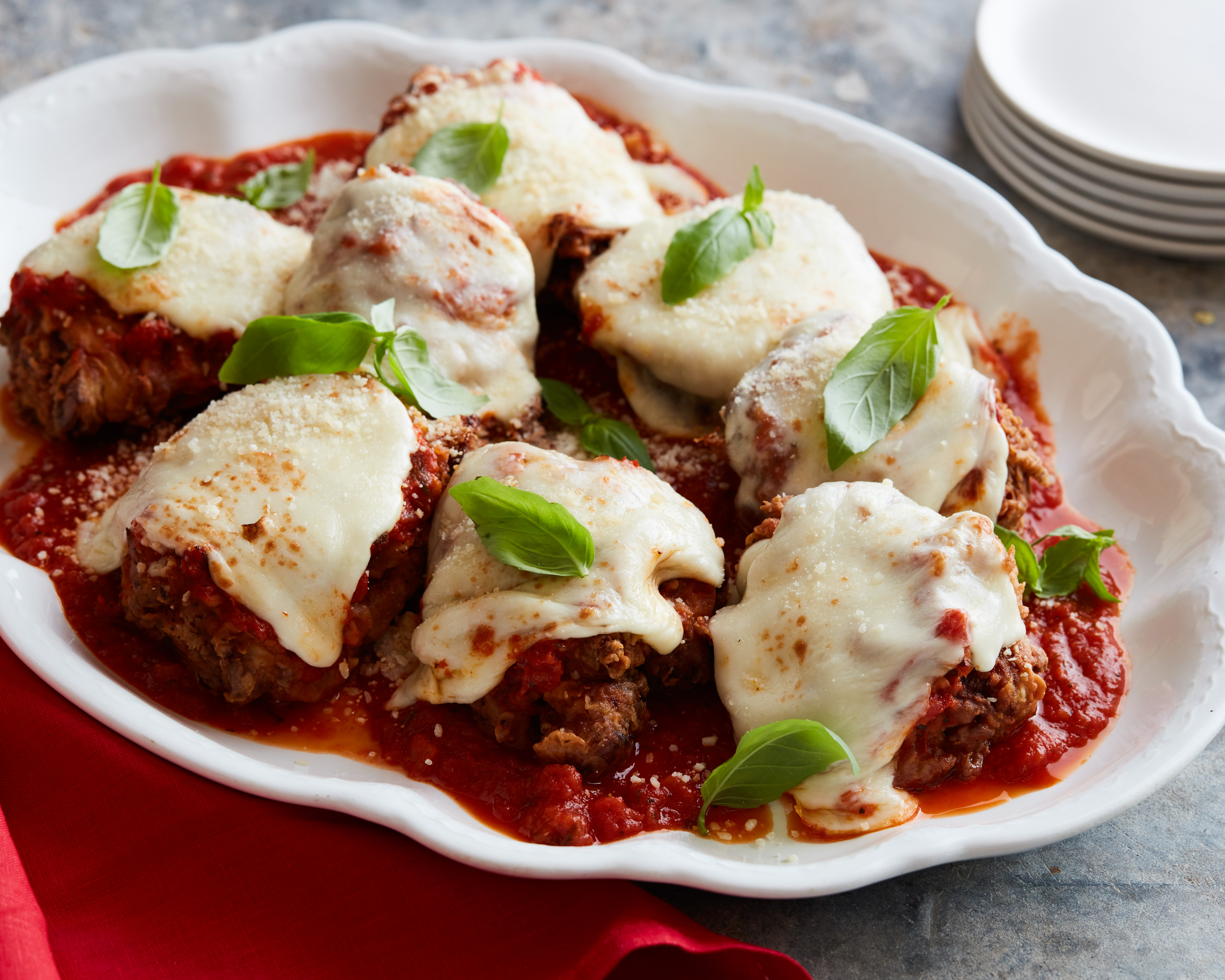 Special equipment:
Whisk together the buttermilk, red pepper flakes and 1 tablespoon salt in a large bowl. Add the chicken, cover, and refrigerate for at least 2 hours up to overnight.
Preheat the oven to 350 degrees F and line a baking sheet with a cooling rack. Add enough vegetable oil to a large Dutch oven or pot, fitted with a deep fry thermometer, so that it is filled a little less than halfway. Heat over medium heat until 350 degrees F. 
Meanwhile, bring another large pot of salted water to a boil. Whisk together the flour, Italian seasoning, 2 teaspoons salt and 2 teaspoons pepper in a large bowl. 
Remove the chicken from the buttermilk, one piece at a time, letting the excess drip off and drop into the flour. Rotate and toss chicken in the flour until completely coated. Add the breaded chicken to the oil in batches of 2 to 3 pieces. Fry until light golden brown on all sides, 3 to 4 minutes per side, then remove to the prepared rack. Repeat with the remaining chicken. Top each piece of chicken with 2 tablespoons of the sauce, a slice of mozzarella and some Parmesan. Bake until the cheese is melted and bubbly and the internal temperature of the chicken is 165 degrees F, about 25 minutes.  
Meanwhile, add the spaghetti to the boiling water and cook according to the package directions. Heat the marinara in a small saucepan. 
Pour 1 1/2 cups warm marinara onto the bottom of a serving platter. Transfer the chicken to the platter. Serve with the pasta topped with the remaining sauce, a sprinkle of Parmesan and a basil leaf.
Source: Read Full Article