Recently, I was at the gym and my new trainer kindly advised me to consider more supportive sneakers. I'm aware the slip-on shoes I've been wearing aren't the best for workouts, but I didn't want to look him in the face and admit that sneakers that have laces can be challenging. While the body positivity movement has made me a lot more comfortable in my own skin thanks to inspiring women like Lizzo and Ashley Graham, it is still embarrassing to me to admit that there are things I just can't do.
My hope is that in sharing my struggles, I will help others who are trying to fit into society's standards and struggling to do so…or maybe make someone pause before judging a fat person entirely by how they look. I hope that instead of offering unsolicited diet advice, people might instead realize there are physical and internal battles that overweight people already fight daily, and that weight isn't the only thing that defines us.
According to the CDC, more than nine percent of adults fall into the category of severe obesity with a Body Mass Index of 40 or above. At just over 300 pounds—a number I crossed in the middle of this past year—I now fall into this category. It's not a size I wanted to ever really be, but after years of yo-yo diets, extreme exercise, and being prescribed weight-loss drugs instead of being counseled on my actual injuries, I've ended up here. I'm happy in my life and have done a lot of mental work to accept how I look no matter what the scale says, but that doesn't mean a day in my life is all sunshine and roses—even when I post a picture of myself smiling and wearing a bikini. Here's what I've learned at this size.
DOCTORS WANT SIMPLE SOLUTIONS.
In the Shimano film All Bodies on Bikes featuring body-positive bicyclists Kailey Kornhauser and Marley Blonsky, Kornhauser talks about a doctor who looked at her diet log and told her that she was eating too many apples. I had a similar experience: A health professional I visited looked at my food journal and saw a string of green vegetables, lean proteins, and the occasional half of a sweet potato, and told me that despite me burning way more calories that I was eating, the reason I was gaining weight was my indulgence on baby carrots. Not cupcakes. Baby carrots.
It's also frustrating to go to a doctor with a neck injury from swinging a heavy kettlebell to be told "if you lost some weight you might feel better," or having them presume you are diabetic on sight (…I'm not). A perfect example? I saw more than a dozen doctors and specialists over six years to be misdiagnosed for a grapefruit-sized teratoma. The doctor who finally figured it out was—surprise, surprise—the one who took the time to actually talk to me instead of just telling me to change my diet.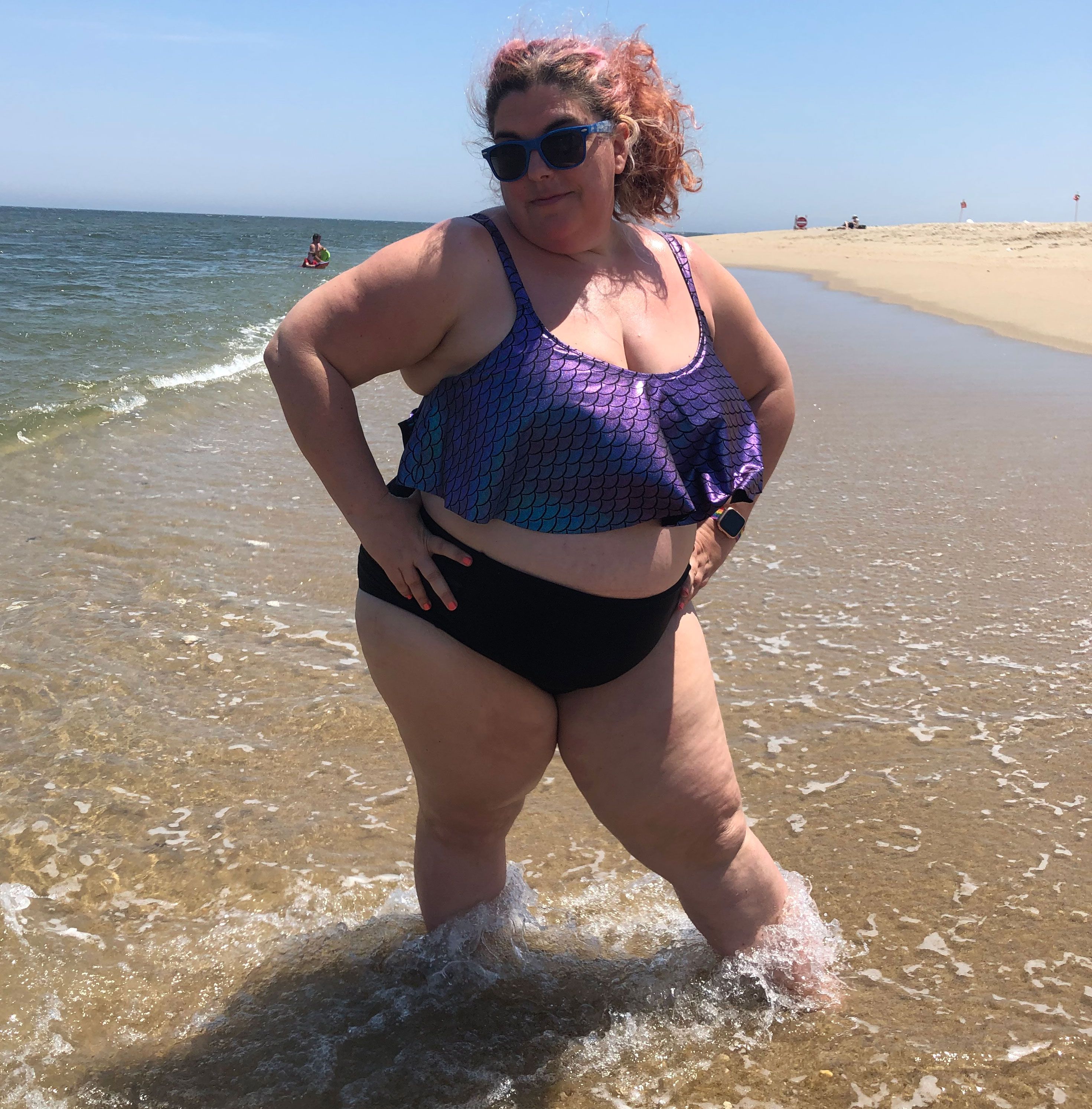 PEOPLE THINK I'M 'BRAVE' FOR POSTING ON SOCIAL.
Every happy post I put up on social media in a cute outfit, or (gasp!) a bathing suit inevitably gets comments about being "brave" about showing so much skin. I get DMs from seemingly well-meaning people with unsolicited health advice. People I once considered friends tell me I should consider losing weight so I can be around longer for my daughter, or that I looked so much better and healthier when I was thinner and couldn't I just give the diet they are selling a chance.
FAST-FASHION IS NOT TRULY INCLUSIVE.
Fast-fashion options are limited, so many popular brands don't offer options above size 16. When you see those Facebook ads for clothes that say they offer size 2XL, the measurements chart will show you what's overwhelmingly considered a size 14 at most instead of a size 20 or 22. Companies are offering mid-sized clothing and labeling it plus-size.
In some ways it is getting better; in my 20s, when I was mid-sized, I had few fashionable options. Now there are a few brands out there like Torrid or Dia and Co. who cater specifically to plus-sizes. Even then, most of the clothes are made for a taller person than me, but I'm lucky enough to know how to hem those pants and skirts.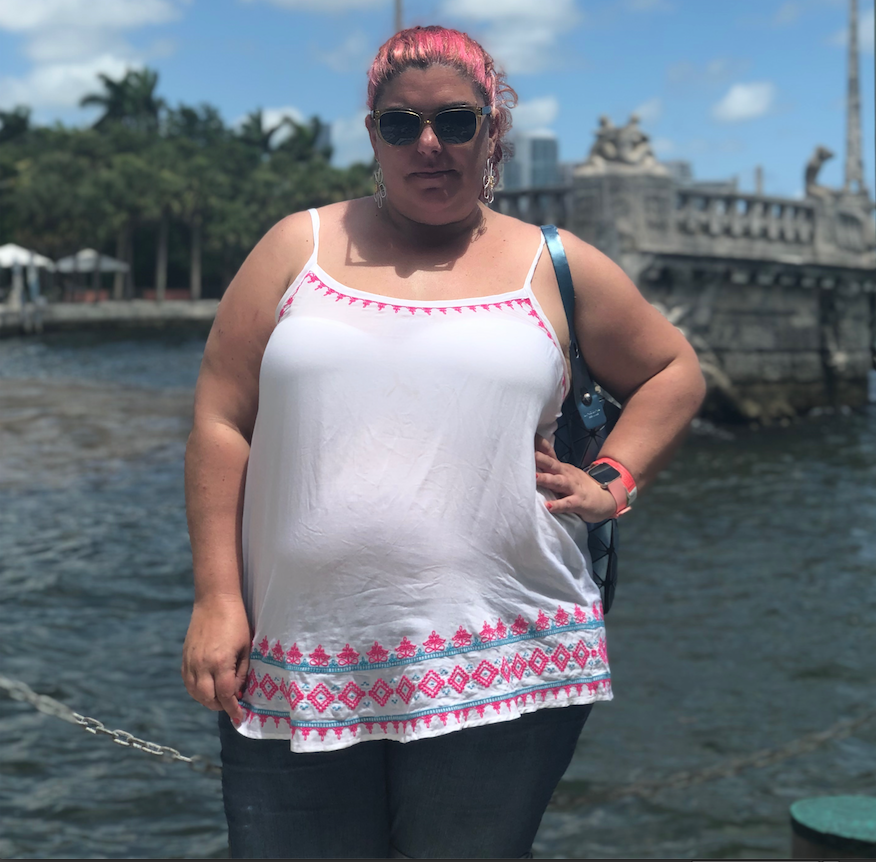 TRAVELING REQUIRES EXTRA PLANNING.

Trains, buses, and airplanes aren't comfortable. I force myself to sit with an arm rest painfully poking into my hip so I don't encroach on the seat next to me. My friend wisely bought a seatbelt extender off Amazon that she brings with her to spare the embarrassment of asking for one. Genius! Even when I get where I'm going, I have to squeeze myself in like a sausage and cut off circulation to my legs in order to enjoy Hamilton, or deal with the stress of fitting into a booth at a restaurant. I combat this by over-planning, trying to score aisle seats, and calling hostesses ahead of arrival and requesting table-seating instead.
I SPEND A LOT OF TIME THINKING ABOUT FOOD, BUT NOT IN THE WAY YOU MIGHT IMAGINE.
I don't daydream about sundaes or decadent desserts. In fact, some days I forget to eat because I work several jobs! But when I go to a restaurant, I'm acutely aware of what everyone around me is ordering, and I make sure to not to be the only one ordering something with a carb. My thinner friends can post food pics with them eating an entire cheesecake, but I'm mindful of what food-centric pics I post for fear of what the comments might be like.
PEOPLE CAN BE REALLY UNKIND.
Last summer, a woman at a farm told me I couldn't go horseback riding with my family because I might break her horse's back. This alone wouldn't be so bad, but she said it loudly…in front of a group of people…..and my family. It was totally embarrassing and that is far from the only story I have like this.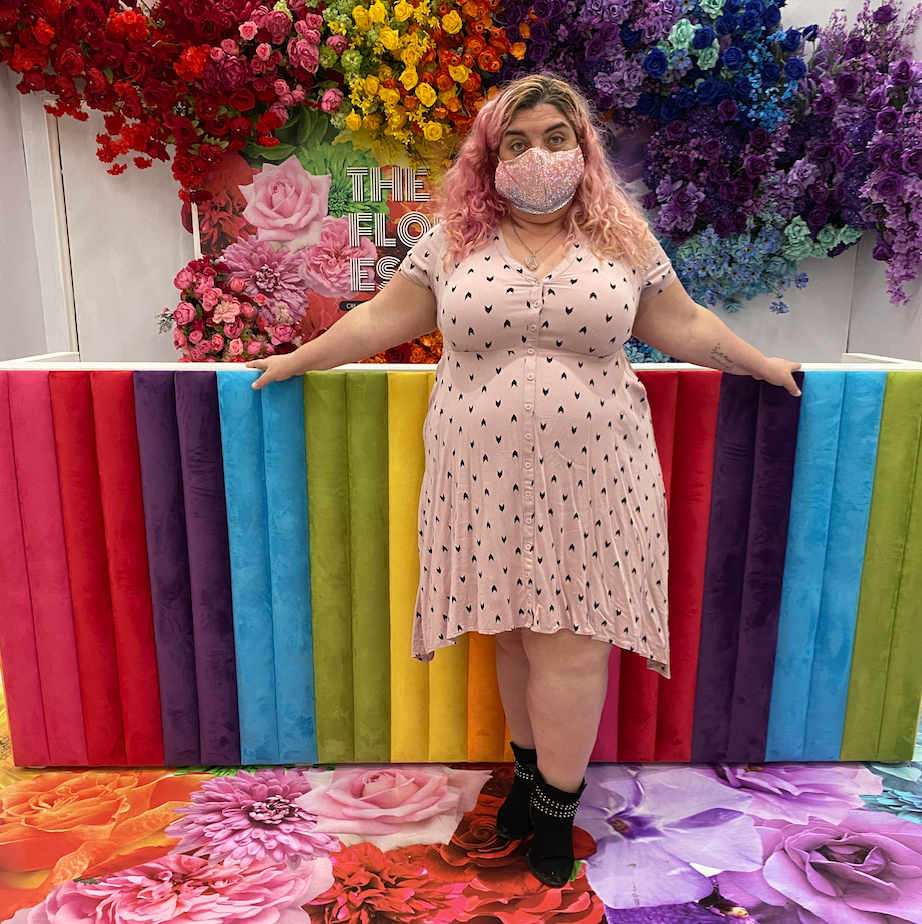 TRYING TO BE THIN DOESN'T MAKE ME HAPPY
There are a lot of days (like when I can't easily reach to shave my legs in the shower) that I wish I was skinnier. But when I weighed 140 pounds less than I do now, I was hungry, suffering from injuries, and exhausted. I was at the back of the back in half-marathons, Tough Mudder races, and triathalons, I worked out two times a day and watched every single calorie, and I would still have doctors tell me I was overweight and could lose a few more pounds.
And while I showed my kid determination in finishing races, I also talked about food and weight so much that I worry it made her think being thin was the most important value in life. Now, when I look at my host of race medals and think of the stress and pain at that time, I'm glad I did them, but I am even more glad I was tough enough mentally to get to a place where I can show my teenaged daughter what being truly happy looks like, even when I can't get up off the ground unassisted after attempting some yoga.
Source: Read Full Article