Total:

30 min

Active:

30 min
Ingredients
Directions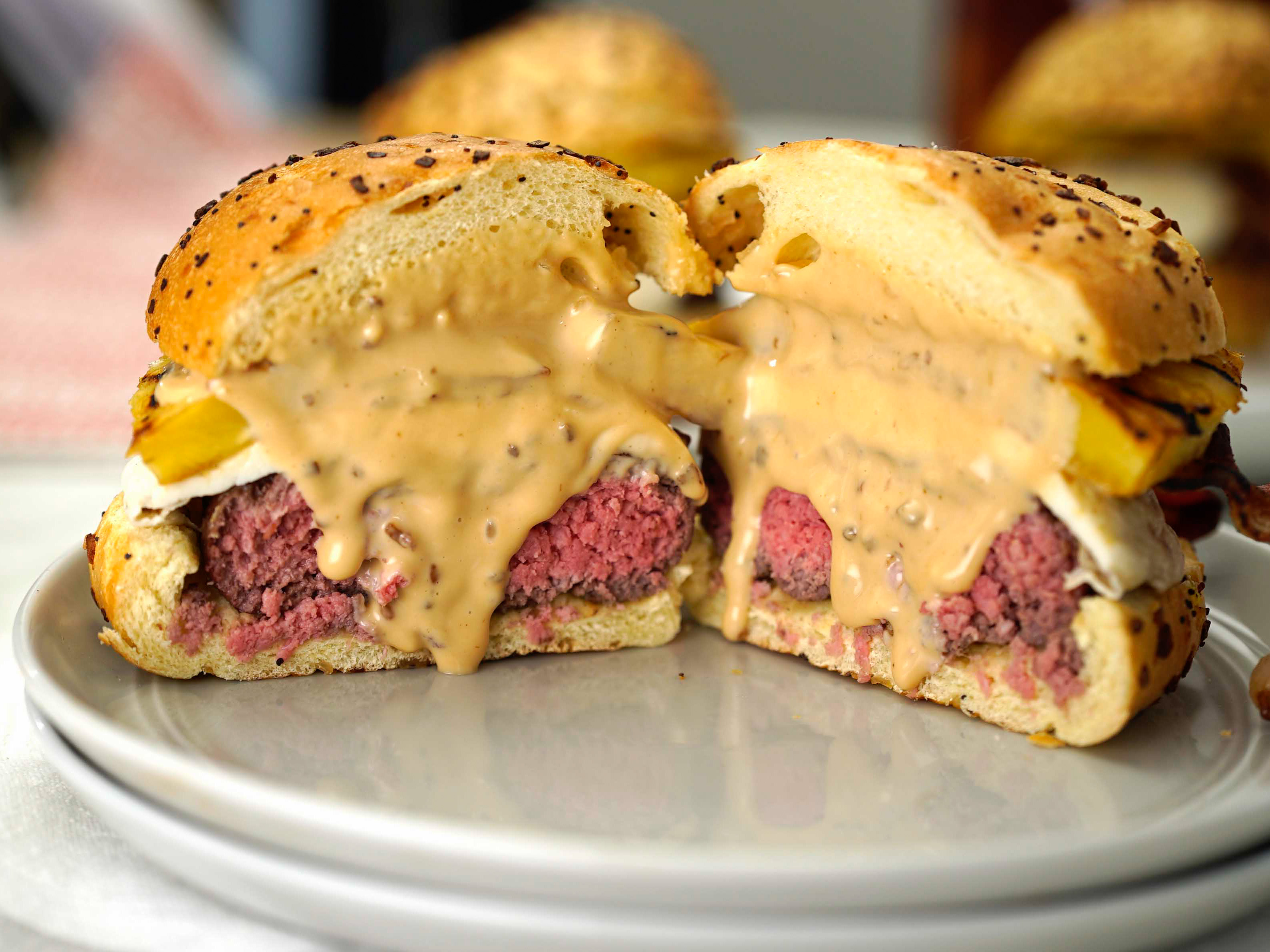 Preheat the oven to 200 degrees F.
Mix the mayonnaise and 1/4 cup of the teriyaki cooking sauce in a small bowl until combined. Slice four 1/4-inch-thick rounds from the pineapple (reserve the remaining pineapple for another use). Form the beef into 4 patties and sprinkle with salt and pepper. 
Heat a grill pan over medium-high heat, alternatively prepare an outdoor grill for medium-high direct and indirect heat. Add the bacon and pineapple in a single layer in a grill pan; if using an outdoor grill place the pineapple over direct heat and the bacon over indirect heat and cover. Cook until golden on one side, about 5 minutes for the pineapple and 7 minutes for the bacon. Flip both with tongs and continue cooking until the bacon is crisp and the pineapple is golden and soft, about 6 minutes more for each. Transfer to a baking sheet along with the rolls and keep warm in the oven.
Add the burgers to the grill pan or outdoor grill over direct heat and cook until well browned on one side, about 4 minutes. Flip the burgers and cook for 2 minutes. Brush the burgers with half the remaining teriyaki cooking sauce, top with the mozzarella and brush with more sauce. Cover the burgers with a heatproof metal bowl or grill lid and cook until the cheese is melted and the burger is cooked to desired doneness, 1 to 2 minutes for medium.
Put a burger on the bottom half of each roll and top with 2 slices bacon and 1 pineapple round. Divide the teriyaki mayonnaise among the burgers, spooning it into the hole of each pineapple round. Top with the roll tops. 
Source: Read Full Article